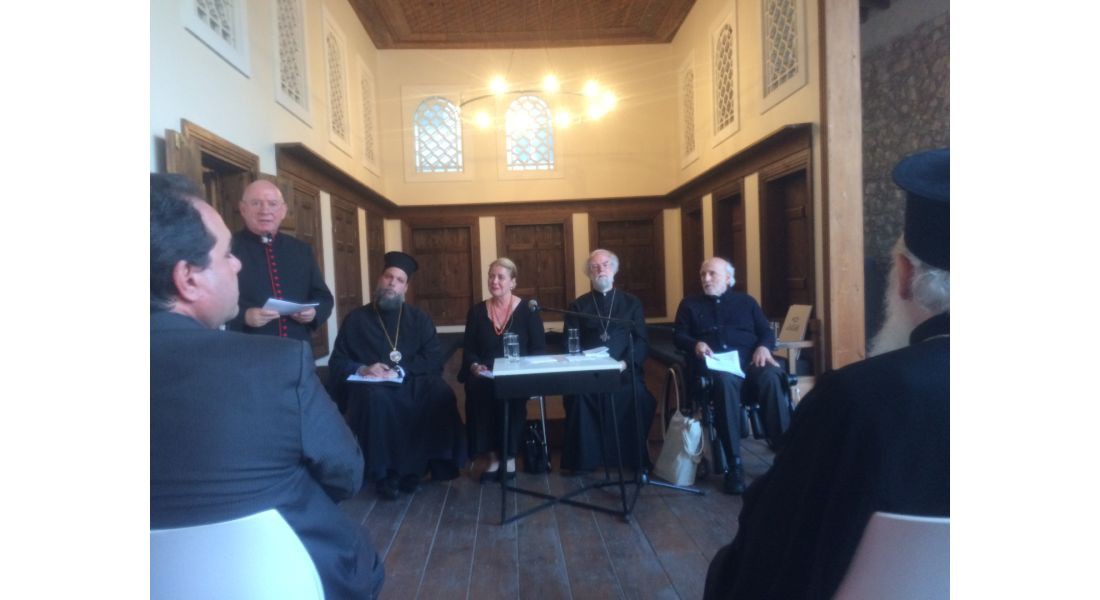 On Tuesday evening, May 28th, in the beautiful surroundings of St. Philothea House in Plaka, a colloquium of distinguished guests joined Bishop Rowan Williams and Fr Leonard for discussion and conversation.  The panel consisted of Orthodox Bishop Gabriel of Nea Ionia, Mr. Costas Carras, President of the environmental group "Europa Nostra", Dr. Nicki Tsironi, Associate in Byzantine Studies at the Universities of Athens, Harvard and Vancouver, and Mr. Constantine Dimtsas, Director-General of the Orthodox Charitable Foundation, Apostoli. Bishop Rowan then gave a brief description of his thoughts on Being Human after which there were contributions from the panellists.
"Being Human"
The modern and technologically biased model of a human being is totally inadequate; a human being is not a "passive lump" – the body – powered by a "machine" – the brain, as proposed by various contemporary writers, but a united and living whole.
The "mystery" that is a human being is defined first in relation to our Creator and then to other human beings; we recognize them and are recognized by them; we work together with them and also interact with the physical world around us, not with an eye to self-gain but with reverence for God's creation. But we should also stand in silence before God, His Creation and our Neighbour – seeing the mystery but not trying to grasp it.
Our best model of what God is like is found in Jesus Christ, Who not only used constant examples of the natural and physical world around Him to illustrate His teachings but also exemplified them through His actions. The Orthodox organisation "Apostoli" and the work it does with others, including St. Paul's, to support those in need not only solves their problems but helps the image of Good in them to be realized.