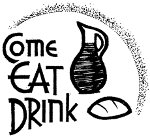 Welcome to St. Paul's Athens especially if you are here
for the first time or visiting Athens. Hand sanitizing and social distancing is required at the present time. We are advised not to sing. Only the 'holy bread' of Communion is being distributed. There is no Sunday School yet, and no refreshments after the Liturgy.
The presiding priest and preacher is Fr. Leonard. The deacon is The Revd. Deacon Christine Saccali.
(At the door)
Priest:    Blessed be God, Father, Son and Holy Spirit
All:         Blessed be his kingdom, now and for ever. Amen
Priest:    There is one body and one spirit.
All:         There is one hope to which we are called
Priest:    one Lord, one faith, one baptism,
All:         one God and Father of all.
Priest:    The Lord be with you
All:         and also with you.
The organ will play for the clergy to enter.
The priest then welcomes the people of God and the deacon leads us into Confession.
Silence and stillness follows
All:  Father eternal, giver of light and grace, we have sinned against you and against our neighbour, in what we have thought, in what we have said and done, through ignorance, through weakness, through our own deliberate fault. We have wounded your love, and marred your image in us. We are sorry and ashamed, and repent of all our sins. For the sake of your Son Jesus Christ, who died for us, forgive us all that is past; and lead us out from darkness to walk as children of light. Amen.
Absolution: Almighty God, who forgives all who truly repent, have mercy upon you, pardon and deliver you from all your sins, confirm and strengthen you in all goodness, and keep you in life eternal; through Jesus Christ our Lord.  Amen.