The two cities we normally associate with that phrase are, of course, London and Paris. Both are cities in which I have been privileged to minister, and which I hold in great affection. But I want to write about my recent trip to two quite different cities – to Hull and Athens.
I grant you that, unlike London and Paris, Hull and Athens aren't normally paired in people's minds. But they might have more in common than you might think (and not just because I recently visited them). But first, let me explain I was doing in them both.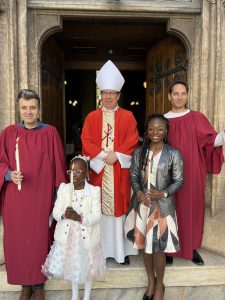 In both, I was responding to long-delayed invitations to speak on the subject of Freedom of Religion or Belief, following the work I did a few years ago for the Foreign Office on the persecution of Christians. That work both led (to my great surprise) to a change in government policy, and has become an enduring passion of mine – a cause which I believe God has laid on my heart to continue to champion.
In Hull, I was invited to deliver the William Wilberforce Lecture, in honour of Hull's greatest son: the great champion of the cause of the abolition of slavery. It was good to be back in the city not only where Wilberforce was born, and which he represented in Parliament, but in which I myself used to live. Indeed I worked out that the last time I had been in the room in the Guildhall where I spoke was in the early 70s for a children's fancy dress party!
And it was, I felt, a very fitting subject to speak on there. Today, many, many people the world over are having their rights compromised, and their livelihoods – and their very lives – threatened, simply because they belong to religious minorities. Their lives and livelihoods are threatened through oppressive governments which combine, to varying degrees, a toxic mix of authoritarianism, nationalism and fundamentalism. Look at the fate of the Rohingya in Myanmar, the Uighurs in China, and Christians in the Middle Belt of Nigeria – to cite just three examples. The fate of religious minorities in the world's two most populous countries, in India and China, is much more precarious than it was a decade ago.