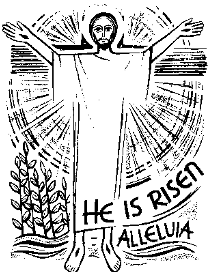 The Anglican Church in Greece
Happy Easter! Welcome to our Easter Sunday worship brought to our homes by Zoom. Some of you may have created Easter Gardens on your balcony, or in your own garden. Please do take a photograph of this and share it with our parish Facebook or if you have made something moveable you might want to have it beside or behind you as you join the worship.
When we begin our worship on your screen with your mouse/or on your pad find the microphone icon and click on it to ensure your voice is silenced – many voices at one time don't work. However if you are leading any part of the service remember to turn it back on again! After the worship we can have a short chat and coffee or an Easter glass of something (!) together.
The hymns and other shared texts you might know by heart, or you can print out this service, or you may have a hymn book at home, or you may be happy to listen in silence.
Priest: Alleluia! Christ is risen
      All:     He is risen indeed. Alleluia!
Jesus lives! Thy terrors now
Can no longer, death, appall us;
Jesus lives! by this we know
Thou, O grave, canst not enthrall us.
Alleluia!
Jesus lives! henceforth is death
But the gate of life immortal;
This shall calm our trembling breath,
When we pass its gloomy portal.
Alleluia!
Jesus lives! for us he died;
Then, alone to Jesus living,
Pure in heart may we abide,
Glory to our Saviour giving.
Alleluia!
Jesus lives! our hearts know well
Naught from us his love shall sever;
Life, nor death, nor powers of hell
Tear us from his keeping ever.
Alleluia!
Jesus lives! to him the throne
Over all the world is given:
May we go where he has gone,
Rest and reign with him in heaven.
Alleluia!
The priest then welcomes the people of God and the deacon leads us into Confession.
Silence
Deacon: Lord Jesus, you raise us to new life.
Kyrie eleison
All:          Kyrie eleison
Deacon: Lord Jesus, you forgive us our sins.
Christe eleison
All:          Christe eleison
Deacon:  Lord Jesus, you feed us with the living bread.
Kyrie eleison
All:          Kyrie eleison
 Absolution: May the God of love and power forgive you and free you from your sins, heal and strengthen you by his Spirit, and raise you to new life in Christ our Lord.   Amen.