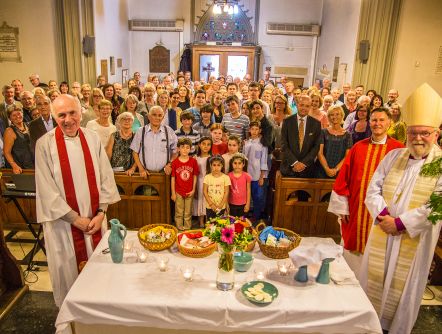 The Scandinavian Church in Greece celebrates its 40th anniversary
We republish here, from the Diocese of Europe's website, the report Father Malcolm sent on the Scandinavian Church's celebration of a 40-year presence in Greece.
On Saturday 14th May, the Eve of Pentecost, members of the Scandinavian Church of Piraeus and Athens gathered at St Paul's Anglican Church, Athens and celebrated the 40th anniversary of their church's presence in Greece.
The Scandinavian Church of Piraeus and Athens began as a seafarers' mission. Its premises – a club as well as a chapel – were close to the port of Piraeus. The Lutheran Churches of Sweden, Norway, Denmark and Finland sponsored it. Of late the number of Scandinavian seafarers has so declined that the mission was closed and a new centre opened just four minutes walking distance from St Paul's Anglican Church, Athens. This centre acts as the hub for Scandinavian Lutheran pastors serving resident populations and tourists in Greece.  Its meeting rooms are used by St Paul's for various events, while St Paul's Church is the place of worship for the Scandinavian communities of Athens.
Approximately 130 people attended the Mass marking the anniversary, along with former pastors of the seafarers mission, Scandinavian chaplains serving the Mediterranean, the Swedish Ambassador to Greece and the Bishop of the Church of Sweden responsible for parishes/chaplaincies outside of Sweden.