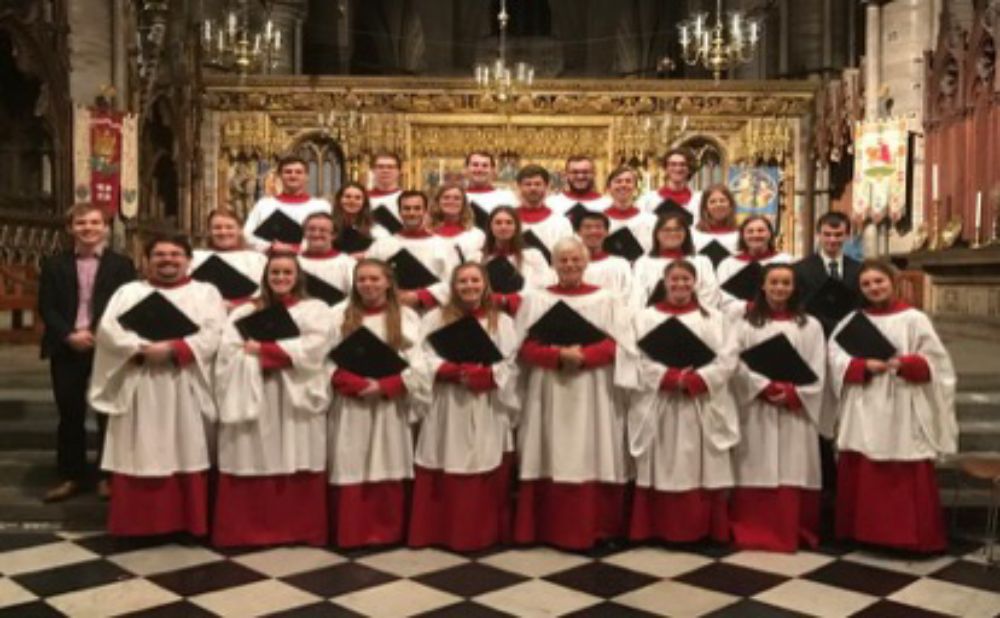 The Choir of Queens' College Cambridge University 20th July 2018
The Choir of the Chapel of Queens' College Cambridge will be performing at St Paul's on Friday 20th July 2018 at 20.30 hrs.  Admission free.
Queens' College Choir
Queens' College Choir is one of the leading mixed-voice choirs in Cambridge. While twentieth-century music forms the core of the choir's repertoire, the choir increasingly performs Baroque and contemporary music, reflecting the specialisms of the Director of Music. The choir is regularly joined by a group of student instrumentalists, the Queens' Chapel Players, enabling the liturgical performance of concerted music. The Choir's CD recordings have attracted widespread critical acclaim. Their most recent disc, 'For the Wings of a Dove: Music of Supplication and Hope', is based on settings of the psalms and includes Mendelssohn's famous setting of Psalm 51, 'Hear my prayer'. In recent years the Choir has performed in Hong Kong, Switzerland, France, Germany, Southern Italy, Belgium, Hungary and the USA.

Conductor – Ralph Allwood, MBE
Ralph Allwood was previously Director of Music at Eton College and is now a freelance choral director. He is the Director of the Eton Choral Courses and is a founder and conductor of Inner Voices, a choir made up of singers from state schools in London. He is Director of Music at the Old Royal Naval College in Greenwich with its Choral Scholars from Trinity Laban. He has conducted choirs for 40 live broadcasts for BBC Radio 3, is a judge for the Llangollen Eisteddfod and Cork International Choral Competition and has written much music heard worldwide on radio and television. Ralph adjudicates the Llangollen Eisteddfod and the Cork International Choral Competition; the Follow Commoner advising in Music at Queens' College, Cambridge, and an Honorary Fellow of University College, Durham. He is Choral Advisor to Novello and Trinity College, Oxford. He teaches at Trinity Laban Conservatoire and at his old school, Tiffin. Ralph was made MBE in the 2012 New Year's Honours list.
THE PROGRAMME WILL BE TAKEN FROM THE FOLLOWING REPERTOIRE
Versa est in Luctum                                              Duarte Lobo                                     1565-1646
Ave Virgo sanctissima                                           Francisco Guerrero                           1523-1599
Loquebantur variis linguis                                    Thomas Tallis                                   1505-1585
In ieiunio et fletu                                                   Thomas Tallis                                   1505-1585
Psalm Prelude Set 1, No.2                                     Herbert Howells                                1892-1983
Beati quorum via                                                  Charles Villiers Stanford                   1852-1924
Quatre Motets sur des themes gregoriens               Maurice Duruflé                               1902-1986
         (Ubi Caritas et amor, Tóta pulchra est, Tu es Petrus, Tantum ergo)
Geistliches Lied                                                    Johannes Brahms                              1839-1897
Nunc Dimittis                                                       Gustav Holst                                     1874-1934
And I saw a new heaven                                       Edgar Bainton                                   1880-1956
Organ Solo
Ubi Caritas                                                          Ola Gjèclo                                        1978-
Song for Athene                                                   John Tavener                                    1944-2013
My beloved spake                                                 Patric Headley                                   1899-1973
Take him, earth, for cherishing                             Herbert Howells                                1892-1983
Te Deum (Collegium Regale)                                Herbert Howells                                1892-1983