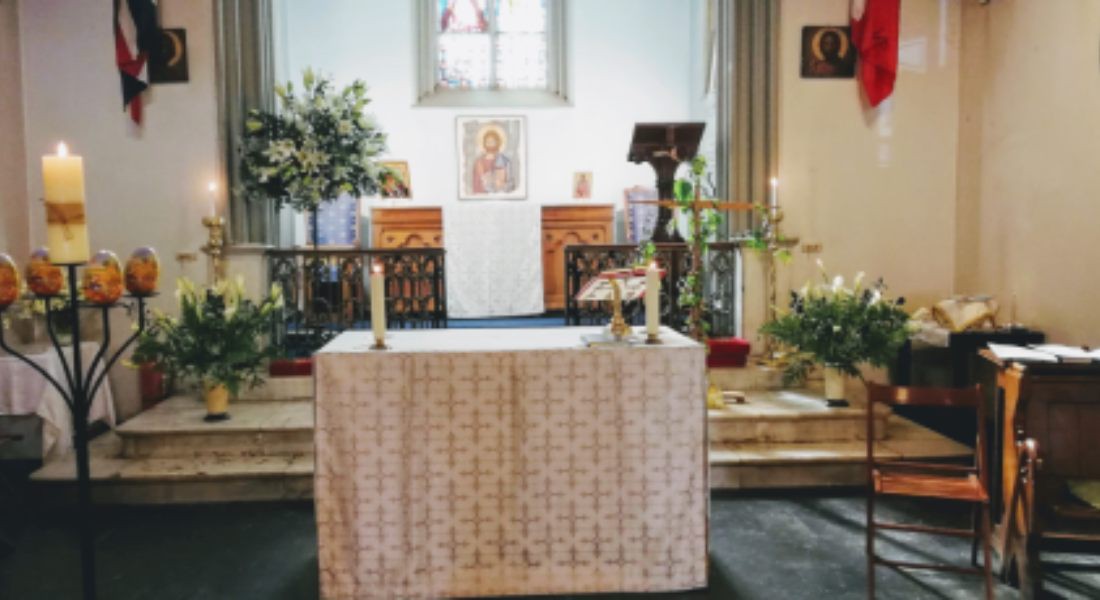 Holy Week and Easter Celebrations at St Paul's
Jean Mertzanakis
Standing room only at St. Paul's on Easter Sunday morning, with glorious sunshine streaming through our stained-glass windows and the altar awash with white lilies donated in memory of loved ones and beautifully arranged by Mary Pelidis and her sister Anna.  Rousing hymns, an anthem beautifully rendered by our choir and a sermon delivered by Canon Colin, ex-Archdeacon of Europe and a dear friend of the Chaplaincy, who was presented with an icon, thanking him for all his work on behalf of the Athens Chaplaincy. He spoke of the death and despair confronted by people every day in this frightening world and how, by reaching out and loving others as Jesus  loved us, we can transform this so-called 'reality' into another and truer reality based on love and freedom from fear.
Baptismal vows were renewed and the congregation were sprinkled with Holy Water. Three young members of our congregation made their first Communion and our Sunday School children decorated the Cross with Easter Eggs symbolising Christ's rebirth.  Father Leonard conducted the singing of an Alleluia chorus, with parts sung by different sections of the congregation (great fun!) and the service closed with the traditional and rousing cry of "Christ is Risen … He is Risen Indeed!"
Father James then led prayers at the Easter Garden which had been prepared on Saturday morning – a beautiful addition to Holy Week at St. Paul's and one that will continue. Easter breakfast was served in the sunshine. It was lovely to see friends old and new, especially Maro Angelopoulos and Margaret Liveris, both returning to good health, and a host of visitors from Greece and various parts of the world. A truly blessed and joyful Easter Sunday. A big Thank You to our clergy team and everyone who made it so memorable.
"ΧΡΙΣΤΌΣ ΑΝΈΣΤΗ … AΛΗΘΏΣ  ΑΝΕΣΤΗ! "CHRIST IS RISEN ……. HE IS RISEN INDEED!"