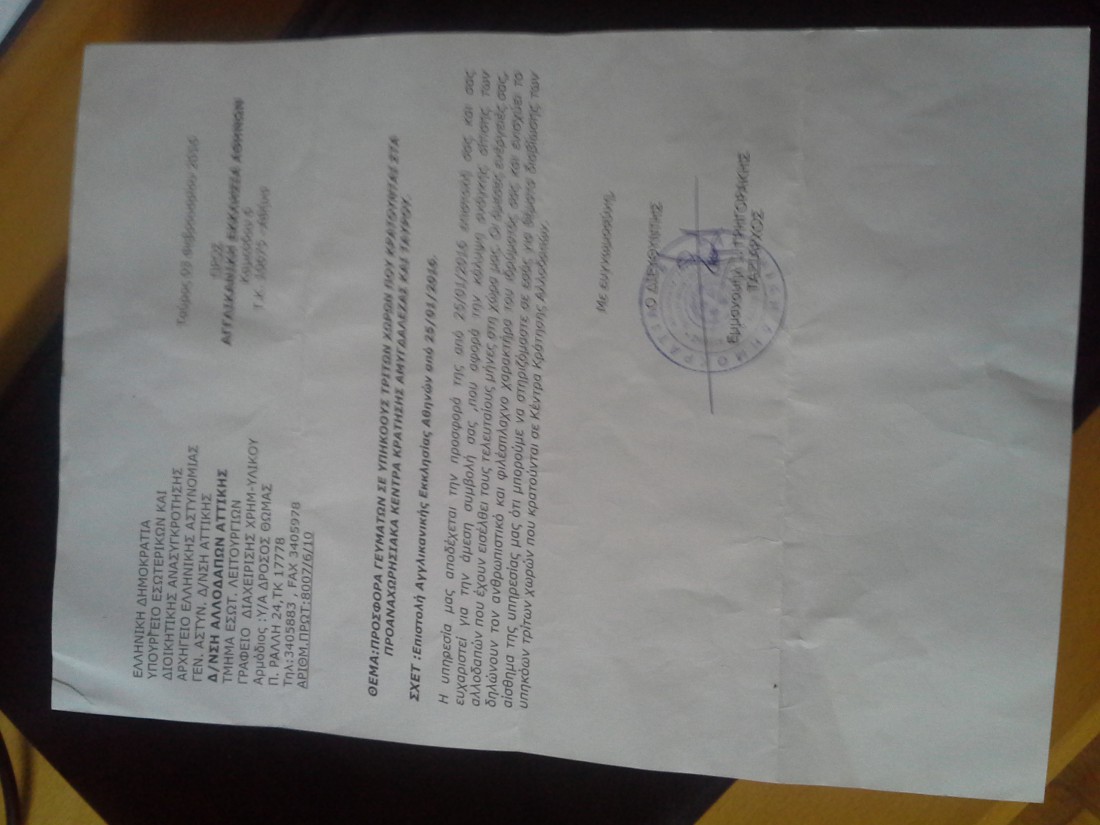 A letter of thanks from the General Directorate of the Hellenic Police
Fr. Malcolm shares the letter of thanks he received from the Hellenic Police's Brigadier Emmanuel Grigorakis for the Chaplaincy's effort to provide hot meals to migrants held at the detention centres on the outskirts of Athens.
Beginning in February, in conjunction with Tony Gabriel of the catering company 'La Chocolatière', the Chaplaincy has arranged for one cooked meal per week for three months to be given to the 400 migrants incarcerated in the Detention Centres of Amigdaleza and Petrou Ralli. These detainees supposedly spend six months in the centres before they are deported to their places of origin. The need to supplement their diet with a hot meal during the winter months became apparent after visiting the Petrou Ralli Detention Centre in January. Other members of the Chaplaincy had already visited the Centre at Amigdaleza. It became apparent that to provide one hot meal a week would assist.
Of late the Chaplaincy received a 'thank you' letter from the Director of the Hellenic Police.  In it, he wrote:
'Our office is happy to authorize the offer described in your letter of 25/01/2016 and thanks you for the immediate assistance given by you to the provision of food for third country nationals that entered our country during the last months. Your immediate action expresses the humanitarian and charitable character of your organization and strengthens the feeling of our office that we can count on you on the subject of care for third world nationals that are held at our closed pre-deportation centres'  With gratitude, the Director, Brigadier Emmanuel Grigorakis.
In 2015 the Chaplaincy responded to an emergency call related to Amigdaleza Detention Centre for clothing, blankets, sleeping bags, shoes, socks and toiletries when four detainees died during the coldest week of the year.
Fr. Malcolm