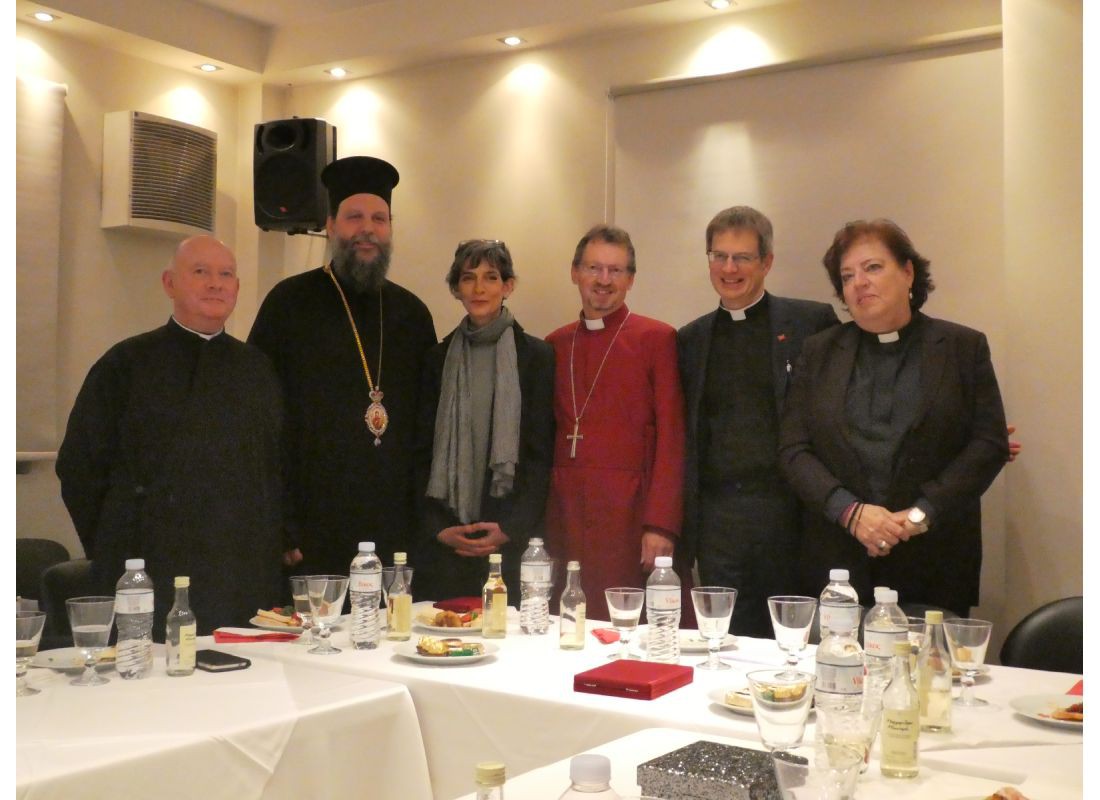 A celebration at Apostoli
On Saturday 2nd February around 25 people met at Apostoli, the Social Mission Arm of the Orthodox Church.
Members of USPG, The Anglican Church and the Orthodox Church as well as various charities who have been helping with the outreach of its mission, met together to celebrate the bonds of solidarity and friendship that had been forged since 2015 when Greece found itself at the centre of the refugee crisis.
Bishop Robert spoke of how, during his tenure, Europe had suffered from two crises – the Financial and the Refugee, and Greece, one of the poorest members of the European Union, had found itself at the forefront of both; a situation manifestly unfair to the Greek People. But the Anglican Church in Athens and the Orthodox Church stood together and forged a partnership, together with USPG,  to help alleviate the suffering of those caught up in the crisis;  USPG have been vital in this work helping to channel over €400,000 through St Paul's to people in Greece suffering from these crises.
"Church in the Street" distributes food twice a day to over 900 homeless and impoverished Greek families as well as refugees.  Two hostels have been set up for Women and unaccompanied minors who are most at risk in the camps, and organisations such as Medin, Lighthouse and Hestia have been given funds to help them to expand and continue their important work.
Metropolitan Bishop Gabriel gave a speech thanking The Anglican Church and USPG for its help during Greece's time of need.
Deacon Chris Saccali gave a speech thanking USPG for their guidance and support without which St Paul's would indeed have struggled to cope.
Revd Duncan Dormor, new General Secretary of USPG gave a speech in which he pledged continuing support to St Paul's and to Apostoli.
Gifts were exchanged and a short video was shown highlighting the excellent work that Apostoli is doing to help the impoverished and suffering Greek people as well as the thousands of refugees who have ended up in our country. To view this video and learn more about the work of Apostoli click here
After partaking of light refreshments, guests mingled and talked to each other and photographs were taken.
We were very grateful for the presence of HE Kate Smith, the British Ambassador who was able to see at first hand the close relationship that had developed between St Paul's and the Greek Orthodox Church.
To read Bishop Robert's report of his weekend in Athens click here
To read Deacon Chris Saccali's speech click here.