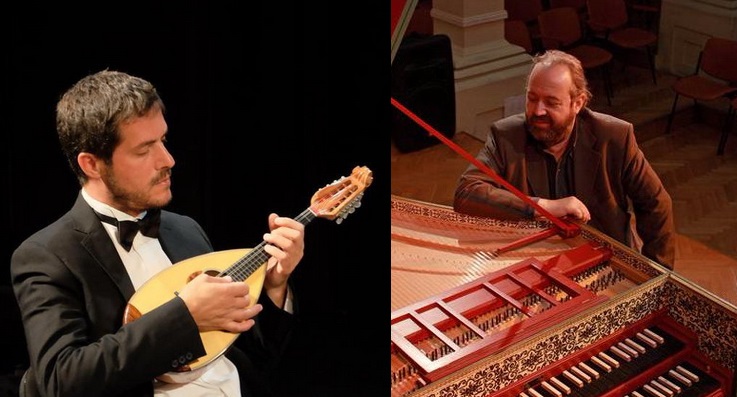 "Mandolino e clavecimbalo" concert
On Wednesday 18th May, at 9pm, the duo formed by Giorgos Goumenakis (mandolin) and Jerassimos Coidan (harpsichord) are in concert at St. Paul's Anglican Church, Philellinon 27 & Amalias Avenue (metro: Syntagma). Organised by specs 'n' arts, tickets are €12 (students €10) and can also be purchased via www.ticketservices.gr, or booked by calling 210.723.45.67.
Conceived as a musical journey with period instruments playing the role of guides, Giorgos Goumenakis and Jerassimos Coidan (Γεράσιμος Χοϊδάς, in Greek) will perform works by Scarlatti, Hummel and Beethoven. Starting off with two sonatas by Domenico Scarlatti (1685-1757) inspired by the musical environment of Florence, home to the most important mandolinists of his time, the journey whirls on around the musical theme of Follia (madness) and introduces the "Grande Sonata for Mandolin and Fortepiano" (op.37a) by Austrian composer Johann Nepomuk Hummel (1778-1837), before finishing with Ludwig van Beethoven's (c.1770-1827) "Andante and variations for mandolin and piano in D major".
The protagonists of this unique concert are as much the musicians, as the instruments themselves: the mandolino lombardo (early 18th century), the six-stringed mandolino napoletano, the four-stringed mandolino bresciano-cremonese and, of course, the harpsichord, probably invented in the late Middle Ages and widely used in Renaissance and Baroque music.
Giorgos Goumenakis, a classical mandolinist, studied at the Verdi Conservatory of Milan and is the founder of the ''Dimitris Dounis'' Athens Quintet; he was also instrumental in reinstating the Athens Mandolinata ''Nikolaos Lavdas'', performing with them across Greece and in Italy. His track record includes performances and recordings both as soloist and orchestral musician with various orchestras and ensembles in Greece and abroad, including with Claudio Scimone and the Solisti Veneti.
Pianist and harpsichordist Jerassimos Coidan has been hailed as the one of the most multifaceted Greek interpreters of keyboard instruments. In his double capacity of harpsichordist and artistic director, he has contributed decisively to establishing the performance of early music with period instruments. He has performed solo and with ensembles at diverse venues in Greece and abroad and, since 2013, is the director of the early music vocal ensemble Corpus Minor.
The concert's close will be followed by another journey organised in the garden of St. Paul's, a gustatory one this time: Katerina Kypreou, patissier par excellence of Zaharomagies, will offer you the possibility to "taste the music" in the form of sweets and pastries  inspired by recipes from the 17th, 18th and 19th century! This particular Musical Moment at St. Paul's thus promises to be a true celebration of the senses.