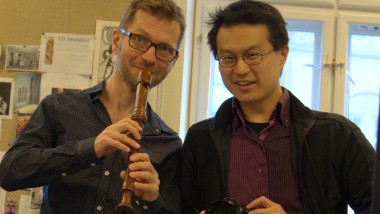 "Improvisations on dance tunes and old folk songs"
Danish musicians Lars Rosenlund Nørremark (organ) and Dan Selchau (recorder and kaval) are giving a concert at St. Paul's Anglican Church, Philellinon 27 & Amalias Avenue (metro: Syntagma) on the 24th April, at 8:30 pm. Organised by specs 'n' arts in the context of the Spring Organ Series 2016, the entrance fee is €10 (students €8). Tickets are also available online via www.ticketservices.gr, or by calling 210.723.45.67.
The second concert of the Spring Concert Series features a musical duo from Denmark of exceptional ilk, with a rare style and repertoire: organist Lars Rosenlund Nørremark, professor at the Royal Danish Academy of Music in Aarhus, and flutist and kaval* soloist Dan Selchau. They will perform improvisations based on folk dances and songs, entwining traditional and classical music into an original programme.
An active concert organist with four CDs to his name, Lars Rosenlund Nørremark has seduced audiences across Europe, while Dan Selchau is known for a broad repertoire based on the traditional music of Denmark and lands near and far, which he has performed in countries as far flung as Tunisia and Afganistan, Iran and Japan. The encounter and mingling of these two musical voices promises to make of their concert an outstanding and memorable event for all who attend.
* The kaval is a wooden, chromatic, end-blown flute traditionally played by mountain shepherds in the Balkans and Turkey.
The concert is being held with the gracious support of the Embassy of Denmark in Greece and the Danish Institute at Athens.