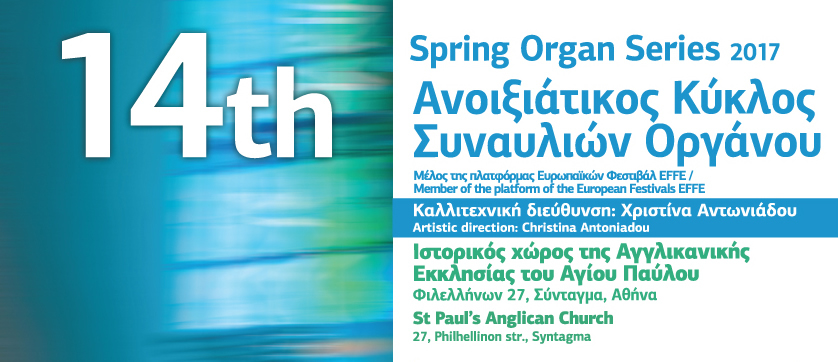 14th Spring Organ Series 2017
The three spring concerts that will be organized again this year at the historic site of St Paul's Anglican Church will include eight musicians accompanied on the 1900 Hill historic organ on the occasion of the 14th edition of the Spring Organ Series.
Continuing the non-stop tradition of the last 13 years and after the successful concerts of the past years, the Spring Organ Series continues to be part of the cultural agenda of Athens for a second decade. It continues to be inspired by spring, Easter and the original organ concerts.
Artistic direction: Christina Antoniadou
Organized by: specs'n'arts, Arte Atene
At St Paul's Anglican Church
From Friday 10th March to Saturday 6th May 2017 at 20:30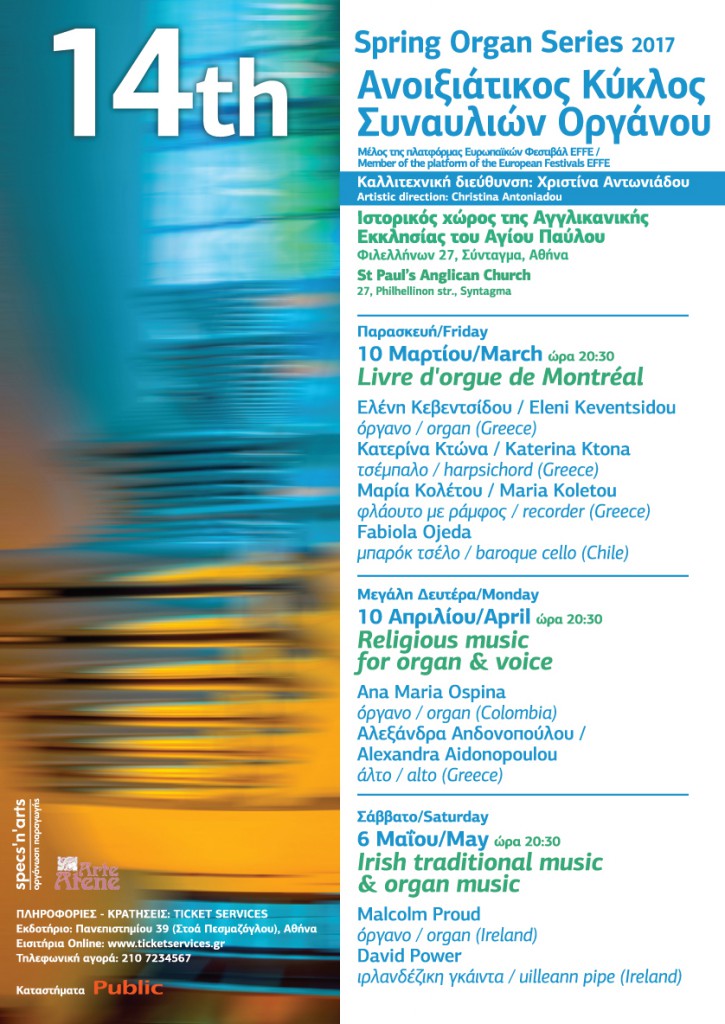 Friday 10th Μarch, 20:30
Livre d'orgue de Montréal
Eleni Keventsidou (Greece),organ
Katerina Ktona (Greece), harpsichord
Maria Koletou (Greece), recorder
Fabiola Ojeda (Chile), baroque cello
Greek premiere
Works from the recently founded music manuscript of the 17th century entitled Livre d'orgue
The concert takes place as part of the Francophonia 2017 and is supported by the Embassy of Canada and RAYCAP.
Monday 10th Αpril, 20:30
Religious music for organ and voice
Ana Maria Orspina (Colombia), organ
Alexandra Aidonopoulou (Greece), alto
Works by J. S. Bach, F. B Mendelssohn, M. Reger, and the Toccata en estilo Ilanero by Nasi composed in 2001 and performed for the first time in Greece.
Saturday 6th May, 20:30
Irish traditional music and organ music
Malcolm Proud (Ireland), organ
David Power (Ireland), uilleann pipe
Works byW. Byrd, W.A.Mozart, J.M.Leclair, G.F. Händel -Irish folk music
Concert details
St Paul's Anglican Church
(27 Philelinon street, Syntagma, Αthens-Metro:Syntagma)
Duration: 60'
Tickets:12 euros
Students up to 18 years old:10 euros
Information – Reservation
TICKET SERVICES, 39 Panepistimiou street, Athens
www.ticketservices.gr
Tel. 210 7234567