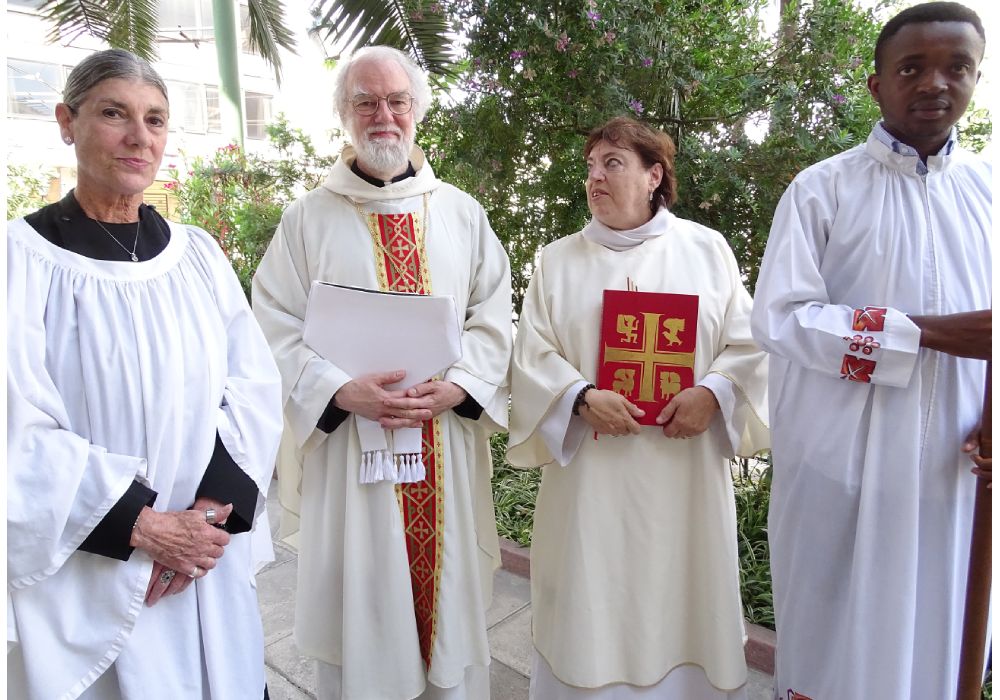 Visit of Bishop Revd. Dr Rowan Williams to Athens
Sunday 26th May 2019
Last week St Paul's Anglican Church in Athens was honoured to receive a visit from the former Archbishop of Canterbury the Reverend The Lord Williams of Oystermouth, Master of Magdalen College Cambridge.  In fact, this was his second visit to Athens having been here in 2010 as Archbishop of Canterbury when he planted an Olive Tree in our garden which continues to flourish.
A very busy schedule had been arranged for the Bishop which commenced with him presiding over the Sunday Liturgy at St Paul's, assisted by Father Leonard, Father James, Deacon Chris and Father Bjorn of the Scandinavian Church, who played a guitar accompaniment to the choir.
Bishop Rowan who is a good friend of the Chaplaincy, and who has helped Raoul an Iranian refugee in Greece, to finally settle in the UK, delivered a sermon based on the bible readings of the day.  He pointed out that whatever was recorded 2,000 years ago refers to us today as Christians who do our best to follow the teachings of Jesus Christ in a church where, every Sunday, God and his beloved Son are present with us.
He drew our attention to the first reading, from Acts of the Apostles, where Luke, the physician and witness to the life of Jesus, stops reporting  on the journeys of Paul as an observer and refers to "we" for the first time; a transition marking the fact that at some point he joined Paul in that part of the world then known as Macedonia. Luke is no longer a reporter, basing his information on hearsay, but a participant in Paul's journey to spread the Christian message to the Gentiles. Lydia, a wealthy woman because the she was "a trader in purple cloth" (purple being the most expensive dye)  is revealed to us through the eyes of Luke, and is one of the earliest Christians we know by name, who provided hospitality in her home for Paul and Luke and their followers.
At the end of the service, Happy Birthday was sung for dear Mary Taylor, 98 years old last week the oldest member of our congregation and a Sunday Brunch was held in the church garden where congregation and visitors had the opportunity to chat with Bishop Rowan and be photographed alongside him.
On Sunday evening Bishop Rowan presided over the monthly Choral Evensong sung by the Scola Cantorum based here in Athens. He was very impressed by the beauty and quality of the singing and he has invited Scola Cantorum to Cambridge to sing in the world-renowned chapel of Kings College.  A prestigious invitation indeed.
After the service, Bishop Rowan, Fr Leonard and the Choir went to a Taverna in Plaka where they shared a glass of wine.