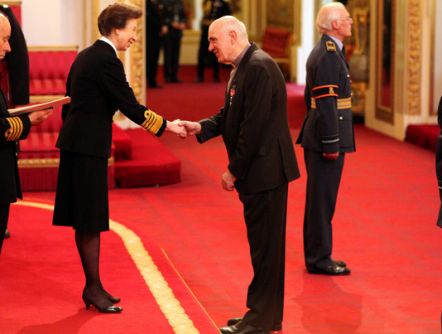 Father Malcolm receives his MBE at Buckingham Palace
At a ceremony held in Buckingham Palace on the 22nd June, Father Malcolm received his MBE, announced in the Queen's New Year Honours List. We republish here, unedited, the relevant article published by the Diocese in Europe website.
A PROUD DAY FOR CANON MALCOLM AND FOR OUR DIOCESE
Posted on 22 June 2016
Canon Malcolm Bradshaw, Chaplain of St Paul's Church, Greater Athens has been at Buckingham Palace today (Wednesday 22 June) to receive from the Princess Royal the MBE which was announced in the Queen's New Year Honours list.
It is the formal award to honour his work as a parish priest, particularly in recent months in Athens where many refugees have arrived from North Africa, Syria or Afghanistan in search of resident status in Greece or with plans to move on across Europe.
With the support of the congregation of St Paul's and in co-operation with mission agencies including Us (Formerly known as USPG) and the Salvation Army.
They have organised supplies of food and water, clothing and advice to young and old who have arrived and are bewildered about where to go. This is against the background of Greece's much publicised financial crisis and cases of extreme poverty among long established citizens.
Canon Malcolm is also being recognised for his work as a powerful ambassador for relief work – he has spoken to a meeting of the Church's General Synod and at Greenbelt.
Diocesan Bishop Robert says "We rejoice with Malcolm on this happy day for him and his family. Many of our congregations across Europe know of Malcolm's tireless work with refugees and his organisational skills in working with other agencies in Athens.
"I am also impressed by his quiet determination and humility in ministry to people in need of food and shelter. It demonstrates the Gospel in action. Today's award is richly deserved."
Picture copyright Anthony Devlin/PA wire