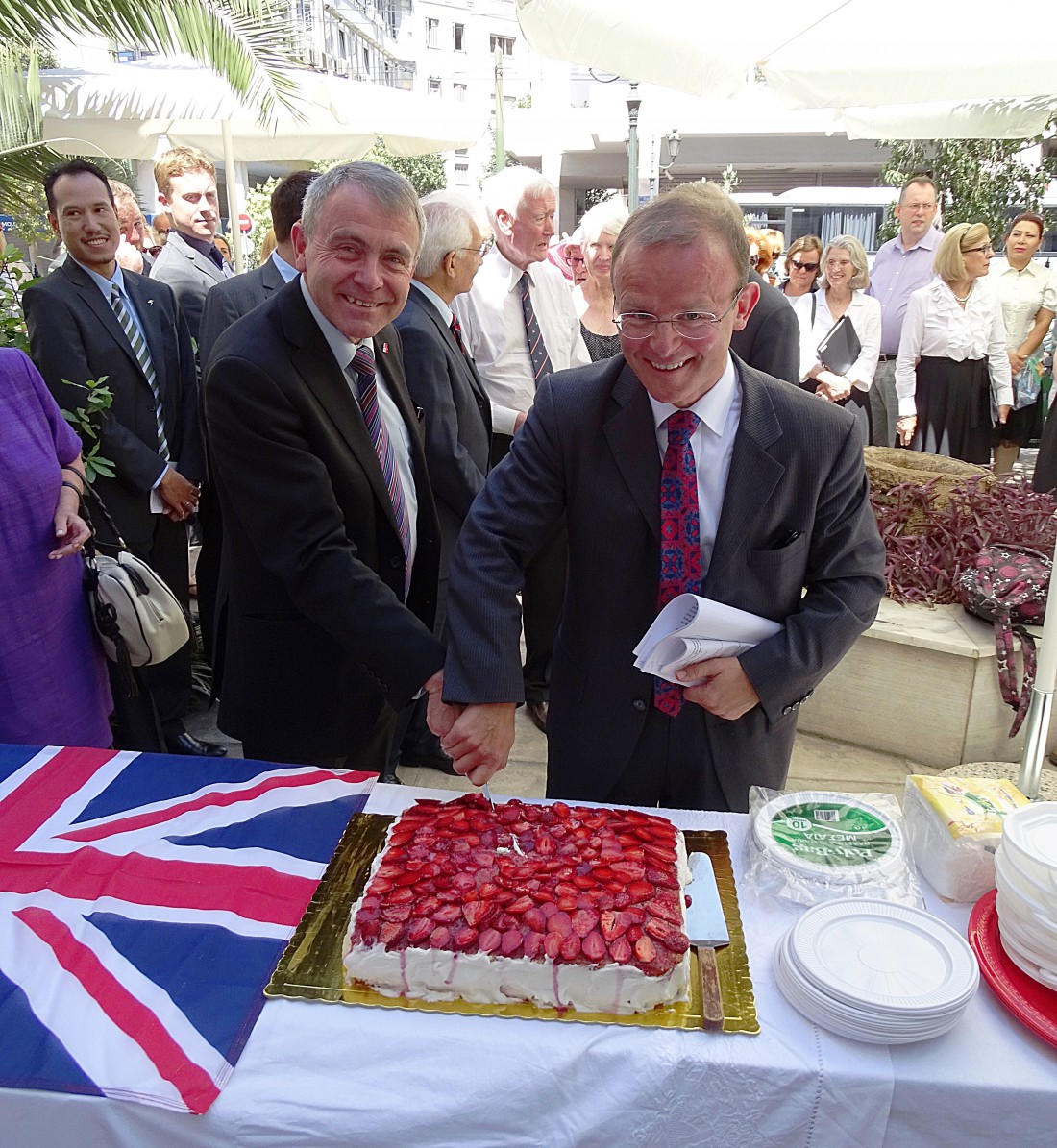 A ROYAL BIRTHDAY CELEBRATION
Jean Mertzanakis recounts the service of thanksgiving and subsequent "street party" held at St. Paul's to celebrate the Queen's birthday.
On Sunday 5th June, St. Paul's celebrated Her Majesty the Queen's 90th birthday with a special service of praise and thanksgiving. The congregation were joined by British Ambassador to Greece, His Excellency Mr. John Kittmer, the Ambassadors of Australia and New Zealand, the British Minister of State for Transport, Mr. Robert Goodwill MP, and Alderman the Lord Mountevans, Lord Mayor of London.
Hymns included everyone's favourite "I Vow to Thee, My Country" and St. Paul's choir gave a beautiful rendition of a traditional Peruvian "Gloria".
The Athens Singers sang  Purcell's setting of  "Come, ye Sons of Art", a birthday ode for Queen Mary, first performed in 1694, followed by part of Charpentier's  "In Te Domine", a 4th century hymn of praise and thanksgiving.  Bible readings referred to the kingships of Solomon and of Christ and the allegiance we owe to both church and state.
Father Malcolm offered prayers for the Queen, Prince Philip and the royal family, and gave thanks for "the faithful witness of Her Majesty Queen Elizabeth II, for her dutiful commitment to her people, for her loving leadership of nation and family, for her gentle constancy amidst continuing change, for her royal dignity in joy and in adversity, for her kindly humanity to one and all".
During his address Ambassador Kittmer referred to the Queen as a continuing presence in our lives, throughout the many changes of government during her reign. He remembered meeting with her before taking up his duties in Greece, when he was particularly struck by her relaxed and friendly manner and her genuine interest in him as a person, a characteristic that has been remarked on by others who have had a private audience with Her Majesty.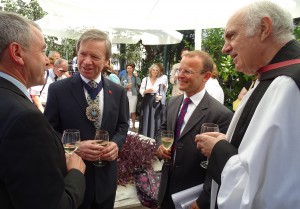 Champagne and strawberry cake accompanied the Loyal Toast in the church garden, followed by a delicious and plentiful "Pot-Luck Lunch". The sun shone, the mood was joyous and everyone agreed that the service was one to remember, not only reaching but surpassing expectations in every way.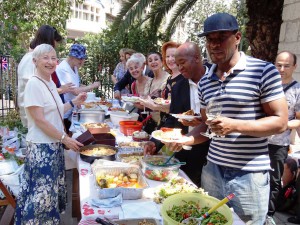 A truly lovely occasion, for which many thanks to Father Malcolm and all who helped make it such a great success.
 Jean Mertzanakis
The photograph of the bell-ringing is by Bridget Coscoros; all other photographs are by courtesy of Christopher Ambatzi-Crécy.