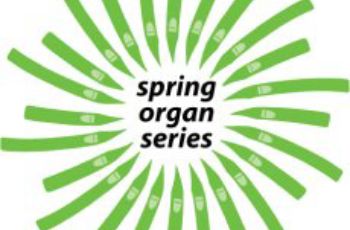 The 15th Spring Organ Series Sunday 6th May 2018
Bach goes to town
The final concert of the 15th Spring Organ Series 2018 will take place on  Sunday 6th May 2018 at 2030 hrs. Presenting the Finnish organist Pauli Pietiläinen, who along with the singers Lida Dimitriadi and Hannu Niemelä will give the audience a contemporary version of appeal and faith through works that are heard for the first time in Greece.
Tickets: 12 euros
Information/ Tickets: 39 Panepistimou Avenue
Stoa Pesmatzoglou, Athens, Public stores

Online purchase: www.ticketservices.gr
Tel.: 210 7234567
Organized by: Specs'n'Arts
Production: Arte Atene
Media sponsors: ERT, The Third Radio Programme
Programme
Johann Sebastian Bach (1865-1750)
Prelude in Gmaj, BWV 541
 Alec Templeton (1909/1910- 1963)
Prelude and Fugue "Bach goes to town"
Tauno Marttinen (1912-2008)
Four Finish Sacred Songs
-Jesus is speaking (words by Kauko Veikko Tamminen)
-The Love of Jesus is deep (traditional folk poem)
-Shall we come together (words by Olli Vuorinen)
-We will praise both Night and Day (words by Efraim Jaakola)
Ignazio Spergher (1734-1808)
Sinfonia
-Allegro
-Andantino
-Allegro con brio
Wolfgang Amadeus Mozart (1756-1791)
From the Mass in cmin, K.427
-Laudamus Te
Juhani Haapasalo (b./ γεν. 1950)
Praise the Lord, our God (words from the Apocalypse of St John 19:5-8)
Kari Tikka (b./ γεν. 1946)
Song of Grace (Words from Cor. 12:9-10 ; Ef. 2:8-9)
Taneli Kuusisto (1905-1988)
Finish Prayer (Uuno Kailas)
Jean Sibelius (1865-1957)
Salem (Viktor Rydberg)
Albert Ketèlbey (1875-1959)
In a Persian Market (arr./ μεταγραφή Pauli Pietiläinen)
Oskar Merikanto (1868-1924)
O, Thank my gracious Lord (Eino Leino)
Felix Mendelssohn Bartholdy (1809-1847)
On Sunday Morning
Pauli Pietiläinen, organ, Finland (F)
Pauli Pietiläinen studied organ performance and church music at the Sibelius Academy in Helsinki, Finland. He graduated in 1988 with the highest honours in organ performance and improvisation. He completed his studies with Wolfgang Rübsam in Chicago and Anders Bondeman in Stockholm. Pauli combines musicianship and originality with a constant curiosity and a delightful sense of humour and he has a particular interest in playing organ arrangements and organ improvisation. He has performed in Finland and has made recordings for the Finnish Broadcasting Company and CDs. He has also given recitals in Europe, North and South America as well as Asia. From 2000-2005 he was the titular organist in Turku Cathedral. In 2014 Pauli Pietiläinen was ordained a pastor in Central-Lahti Parish and in 2015 he was appointed to The Church of the Cross, Lahti, Finland. In 2017 he was appointed Director of the Lahti International Organ Festival.
Lida Dimitriadi, soprano, Greece (GR)
Lida Dimitriadi was born in Athens and is a graduate of the Department of Informatics at the University of Athens. She holds a piano diploma and studied classical singing at the Athenaeum Conservatory with Christina Giannakopoulou. She graduated in 2012 with cum laude and 1st prize. She continued her postgraduate studies in classical singing with Pr. Cheryl Studer at the Hochschule für Musik in Würzburg, Germany. She graduated in 2015 with MMus in Performance. She has collaborated with the National Opera of Greece (2011/12), the Nuremberg Opera House (2013/14). She is also active in oratorio singing in Greece and Germany and her repertoire includes amongst others J.S.Bach's Matthäus-Passion, F.B. Mendelssohn's "Elias" and "Symphony no2", G.Bizet's "Te deum". In 2017 she participated at the International Maria Callas Grand Prix competition, where she won the special prize for the best Greek participation.
Hannu Niemelä, baritone(Finland (F))
Hannu Niemelä studied the organ and singing (solo and teaching) at the Sibelius Academy in Helsinki. He also studied at the IOS of the Opera Zϋrich. He sang at the Savolinna Operafestival for many years and since 1992 he has been the guest soloist of the Finnish National Opera. Since 2002 he has worked as a free-lancer. Hannu has done opera, concert, radio and TV broadcastings in almost all the European countries and also in the USA, Mexico, Israel, Japan and Kenya. The repertoire of Hannu includes the most great baritone roles of G. Verdi and the heldenbaritone roles of R. Wagner amongst other operatic repertoire. His concert repertoire also includes lied and religious music. He has recorded religious solo music in Finland. His latest roles are Michele in "Il Tabarro" by G. Puccini, Renato in "Un Ballo in Maschera" and Rigoletto in  Rigoletto" by G. Verdi and also Rangoni in "Boris Godunow" by M. Mussorgky to name but a few.
Christina Antoniadou
Organist and Music Educator BMus, MMus, LRAM (Graduate RAM & RSAMD)