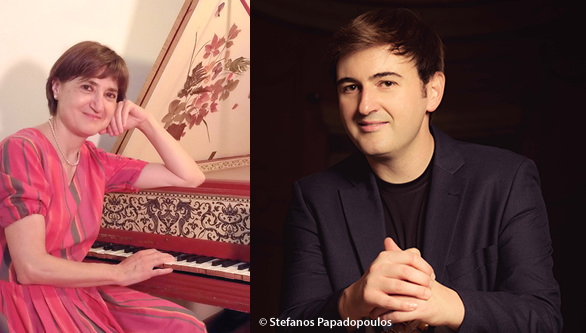 "Cantabo Domino" Christmas Concert
"CANTABO DOMINO", a Christmas concert with counter-tenor Nikos Spanátis accompanied by Eleni Któna on the harpsichord and organ, is being held at St. Paul's Anglican Church, Philellinon 27 and Amalias Avenue, on Friday 18th December at 8:30pm. Organised by specs 'n' arts, the entrance fee is € 12. Tickets are also available online via www.ticketservices.gr.
The repertoire comprises songs from religious works by Renaissance and Baroque composers, such as John Bull (1562-1628), Alessandro Grandi (1586-1630), Henry Purcell (1659-1695), Georg Fr. Handel (1685-1759) and Johann Sebastian Bach (1685 – 1750). These masterpieces are interspersed with Christmas melodies by anonymous composers and old English carols. The performance, particularly appropriate in a church at Christmastide, brings together two distinguished artists with a history of collaboration, ensuring that Nikos Spanátis' exceptional voice and the gentle sound produced by Eleni Któna on the harpsichord and organ enhance each other rather than compete with one another, creating a rare atmosphere of devotion and joy.