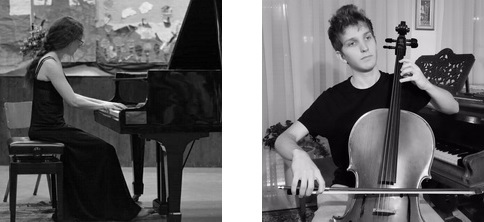 Romantic sonatas for piano and cello
Young and talented, soloists Apostolia Anastassiou (piano) and Fotis Patseas (cello) propose their own interpretation of two sonatas of the Romantic period at St. Paul's Church, Philellinon 27 & Amalias Avenue (metro: Syntagma) on Saturday 5th March at 8:30pm. Organised by specs 'n' arts, tickets at the door are €12 (students €8), but are also available online via www.ticketservices.gr, or by calling 210.723.45.67.
Both performers are in their last year of musical studies at the Kodály Conservatory (Athens), where they have each excelled at their preferred instrument. Their debut recital as a duet offers the Athenian audience a fresh approach to Johannes Brahms' "Sonate für Klavier und Violoncello" in E minor (Op.38) and  César Franck's "Sonata for Violin and Piano" in A major arranged for the cello by Jules Delsart c. 1888 (and the only alternative version sanctioned by Franck himself). The interplay of these two young and talented musicians also ensures that this evening of "Musical moments at St. Paul's" marks a special moment for Athenian music lovers, promising to be the revelation of two virtuosi in the making.