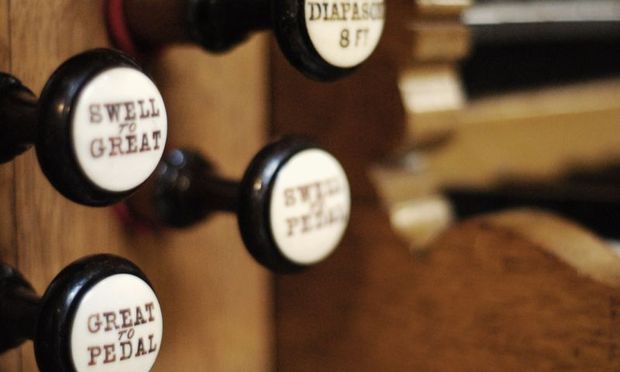 Pulling out the stops: St. Paul's Spring Organ Series' EFFE Label
Ahead of the 2016 Spring Organ Series, held at St. Paul's, it is worth recalling that this annual musical attraction now also enjoys European-wide recognition: the EFFE Label 2015/2016. Especially, as the first concert is scheduled to be held shortly, on the 28th February…
Launched in 2004 on the initiative of St. Paul's organist, Christina Antoniadou, the Spring Organ Series give St. Paul's 1900 Hill's pipe organ centre stage, either solo or in combination with other instruments. Now in its 13th season, this festival of organ music has attracted over 240 musicians to date, both soloists and in ensembles, who have regaled the Athenian audience during more than 60 concerts. The festival's consistent quality and Christina's continued efforts as artistic director to initiate the public to what, in Greece, is a relatively unknown corpus of music, were officially recognised on a European level last autumn, when it received the following accolade:
"The Coordinating Body of EFFE – Europe for Festivals, Festivals for Europe, is delighted to inform in public that the Spring Organ Series under the artistic direction of Christina Antoniadou have been selected to receive the EFFE Label 2015/2016. The applications were approved by our International Festival Jury following successful evaluation by the Hub Experts on a national level.
The Spring Organ Series (SOS), which have been organized at St. Paul's Anglican Church in Athens since 2004, are now part of the EFFE Platform, initiated by the European Festivals Association, which consists of festivals that stand for artistic quality and have a significant impact on the local, national and international level. The Label recipients represent 31 European countries and offer a wide range of genres and activities to their audiences. Through developing community and creativity within Europe, these festivals make Europe a better place."
Best regards,
Kathrin Deventer            Hugo De Greef
The EFFE Coordinating Body, on behalf of the International Festival Jury, all Festival Hubs, Hub Experts
This season opens on the 28th February, with a concert featuring Estonian organist Piret Aidulo and the Bosphorus Wind Quintet from Turkey, and ends on the 25th April with a performance by Johannes Geffert (organ), Dimitra Triantafyllou (violin) and soprano Siranous Tsalikian. Once again, Christina Antoniadou has been pulling out the stops to offer the Athenian audience a diverse and exciting programme!