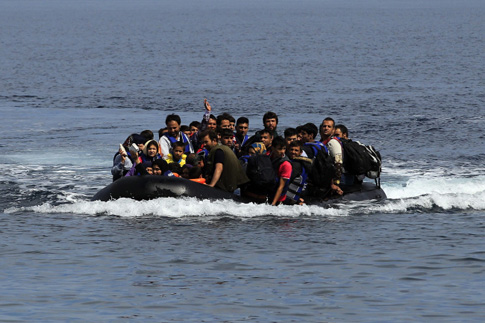 British churches respond to Greek crisis
ON THE 15TH and 16th September 2015, in an unprecedented display of Christian Unity, a delegation of British church representatives of all denominations flew directly to Thessaloniki, and then travelled to the border post of Eidomeni, to witness firsthand the plight of the thousands of refugees crossing into FYROM.
On the same evening, the delegates attended a dinner in Athens organised by Fr Malcolm together with representatives of the Christian denominations in Athens and the UNHCR.
On the Wednesday, following a meeting with the British Ambassador, the delegation went to the vicarage, where Ms Alessandra Morelli, UNHCR Senior representative for the Coordination of Emergency Aid in Greece, presented a report on the refugee crisis here.
Ms Morelli stressed the fact that the refugees now include a growing number of women and children, as whole families flee war and persecution, and made special mention to the islands of Lesvos and Leros, which are starting to buckle under the strain of welcoming so many migrants. A positive note in this crisis is the High Commissioner for Refugees' approval to release funds to Greece to help the small islands cope with the administration of this influx.
As the British delegates agreed, the scale of this exodus is unlike anything witnessed since the end of WWII and demands the dedication of all our resources to alleviate the suffering and heartbreak surrounding us on a daily basis. †