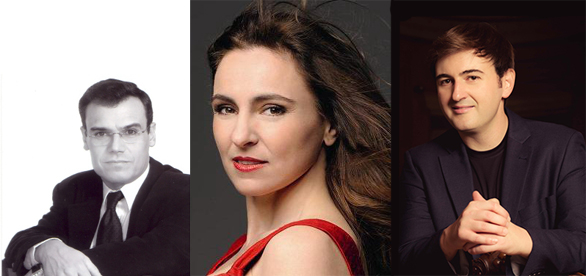 "Belle nuit… nuit d'amour"
"Belle nuit… nuit d'amour," a repertoire of arias, duets and songs with Irini Karayianni (mezzo soprano), Nikos Spanatis (counter tenor) and Dimitris Yakas (piano), will fill St. Paul's Anglican Church (Philellinon 27, metro Syntagma) on the 7th March at 8:30pm. Organised by specs 'n' arts, tickets at the door are €12 (students €10), but are also available online via www.ticketservices.gr, or by calling 210.723.45.67.
Love songs of different genres, from the Baroque period through to Greek operetta -including a 'pinch' of jazz!- promise to make this particular "Musical Moment at St. Paul's" a beautiful evening, an evening full of love – one to remember for a long time to come. The church's acoustics are particularly suited to the rich voices of Irini Karayianni and Nikos Spanatis, both of them acclaimed soloists with impressive track records. Accompanied by virtuoso pianist Dimitris Yakas, in his own right a talented musician with an international career, they propose an unexpected musical journey, full of personal interpretations and unpredictable juxtapositions.