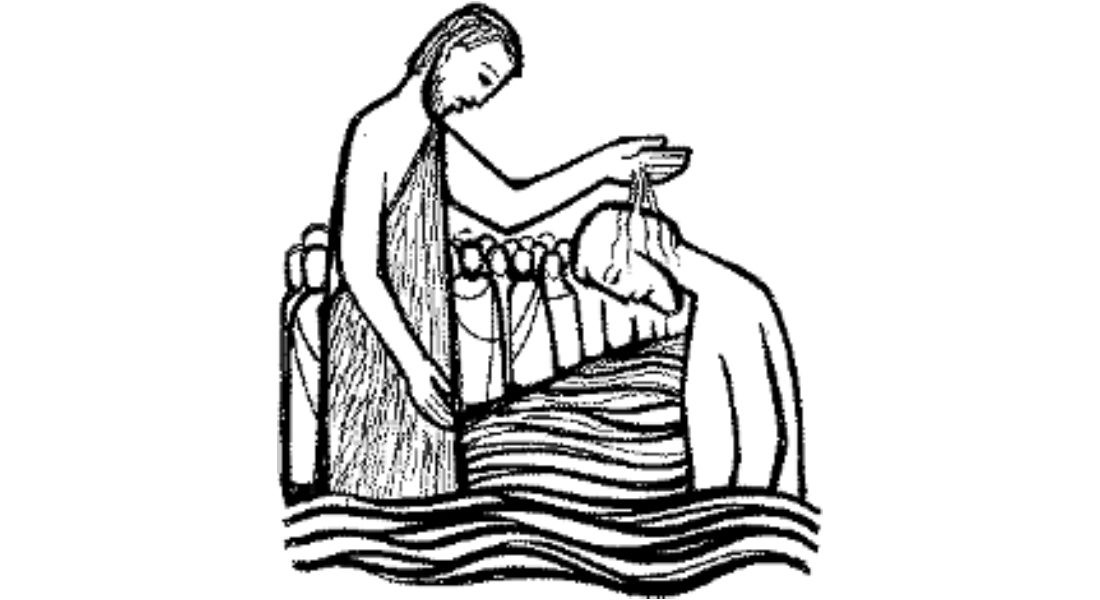 Zoom Service for the Baptism of Christ: 10th January 2021
Deacon:   The grace of God has dawned upon the world through our Saviour Jesus Christ, who sacrificed himself for us to purify a people as his own.
All:            Amen. Lord have mercy.
The deacon leads us into a short period of silence, followed by Confession.
Deacon:   God be gracious to us and bless us, and make your face to shine upon us:
Kyrie eleison
All:            Kyrie eleison
Deacon:   May your ways be known on the earth, your saving power among the nations
                  Christe eleison
All:            Christe eleison
Deacon:   You, Lord, have made known your salvation, and reveal your justice in the sight of the nations:
                  Kyrie eleison
All:            Kyrie eleison
Priest:   May the God of love and power forgive you and free you from your sins, heal and strengthen you by his Spirit, and raise you to new life in Christ our Lord.   Amen.
Gloria  (tune Skye Boat Song)
 Glory to God in the heaven above, peace to his friends on earth.
Lord God of hosts, and our heavenly King, Father and mighty God.
We worship you, we give you thanks, praise to your holy name.
'Glory to God' heaven declares 'Glory' creation sings.
Refrain:  Glory to God in the heaven above, peace to his friends on earth.
                God, ever three, yet eternally one, glorious Trinity.
Son of the Father, and Lord of us all, holy eternal Lamb,
Christ, who has carried the sin of the world, mercy on us, we pray.
Jesus our God, Saviour and Judge, answer us when we cry;
Seated on high, reigning with God, hear and receive our prayer.  Refrain.
You, Jesus Christ, are the Lord, the Most High, you are the Holy One.
You, only you, with the Spirit divine, reign in the Father's love.
Blessed are you, Father and Son, Spirit of grace and truth;
Myst'ry profound, veiled yet revealed, hidden in depths of light.  Refrain
Collect:  Let us pray     (Collect of the Day) 
Eternal Father, who at the baptism of Jesus revealed him to be your Son, anointing him with your Holy Spirit: grant to us, who are born again by water and the Spirit, that we may be faithful to our calling as your adopted children; through Jesus Christ your Son our Lord, who is alive and reigns with you, in the unity of the Holy Spirit, one God, now and for ever.      Amen
First Reading                                                                                                                       Genesis 1, 1-5
In the beginning when God created the heavens and the earth, the earth was a formless void and darkness covered the face of the deep, while a wind from God swept over the face of the waters. Then God said, "Let there be light"; and there was light. And God saw that the light was good; and God separated the light from the darkness. God called the light Day, and the darkness he called Night. And there was evening and there was morning, the first day.
This is the word of the Lord
All: Thanks be to God.
Angel voices ever singing
round Thy throne of light,
angel harps, forever ringing,
rest not day nor night;
thousands only live to bless Thee
and confess thee Lord of might.
Thou who art beyond the farthest
mortal eye can scan,
can it be that Thou regardest
songs of sinful man?
Can we feel that Thou art near us
and wilt hear us? Yea, we can.
Yea, we know Thy love rejoices
o'er each work of Thine;
Thou didst ears and hands and voices
for Thy praise combine;
craftsman's art and music's measure
for Thy pleasure didst design.
Here, great God, today we offer
of Thine own to Thee;
and for Thine acceptance proffer,
all unworthily,
hearts and minds and hands and voices
in our choicest melody.
Honour, glory, might, and merit
Thine shall ever be,
Father, Son, and Holy Spirit,
blessed Trinity:
of the best that Thou hast given
earth and heaven render Thee.
Gospel Reading          
Deacon:   Alleluia, alleluia. This is my Son, the Beloved with whom I am well pleased.
All:            Alleluia.
Deacon:   The Lord be with you
All:            and also with you
Deacon:   Hear the Gospel of our Lord Jesus Christ according to St. Mark   (Mark 1, 4-11)
All:            Glory to you, O Lord
John the baptizer appeared in the wilderness, proclaiming a baptism of repentance for the forgiveness of sins. And people from the whole Judean countryside and all the people of Jerusalem were going out to him, and were baptized by him in the river Jordan, confessing their sins. Now John was clothed with camel's hair, with a leather belt around his waist, and he ate locusts and wild honey. He proclaimed, "The one who is more powerful than I is coming after me; I am not worthy to stoop down and untie the thong of his sandals. I have baptized you with water; but he will baptize you with the Holy Spirit." In those days Jesus came from Nazareth of Galilee and was baptized by John in the Jordan. And just as he was coming up out of the water, he saw the heavens torn apart and the Spirit descending like a dove on him. And a voice came from heaven, "You are my Son, the Beloved; with you I am well pleased."
 Deacon: This is the gospel of Christ
All:           Praise to you, O Christ.
 Sermon  
Creed
We believe in one God, the Father, the Almighty, maker of heaven and earth, of all that is, seen and unseen. We believe in one Lord, Jesus Christ, the only Son of God, eternally begotten of the Father, God from God, Light from Light, true God from true God, begotten, not made, of one Being with the Father; through him all things were made. For us and for our salvation he came down from heaven, was incarnate from the Holy Spirit and the Virgin Mary and was made man. For our sake he was crucified under Pontius Pilate; he suffered death and was buried. On the third day he rose again in accordance with the Scriptures; he ascended into heaven and is seated at the right hand of the Father. He will come again in glory to judge the living and the dead, and his kingdom will have no end. We believe in the Holy Spirit, the Lord, the giver of life, who proceeds from the Father, who with the Father and the Son is worshipped and glorified, who has spoken through the prophets. We believe in one holy catholic and apostolic Church. We acknowledge one baptism for the forgiveness of sins. We look for the resurrection of the dead, and the life of the world to come. Amen.
Intercessions:  (kneel or sit) Lord in your mercy; hear our prayer   
 Peace: God has made us one in Christ. He has set his seal upon us and, as a pledge of what is to come, he has given us the Spirit to dwell in our hearts.  The peace of the Lord be always with you.
All:     And also with you.
You might like to scroll along the gallery of the participants to see who you are sharing the peace with – remember to put your Sunday collection aside or send it by bank transfer.
1 Of the Father's love begotten
ere the worlds began to be,
he is Alpha and Omega,
he the Source, the Ending he,
of the things that are, that have been,
and that future years shall see,
evermore and evermore!
2 O that birth forever blessed,
when the Virgin, full of grace,
by the Holy Ghost conceiving,
bore the Saviour of our race;
and the babe, the world's Redeemer,
first revealed his sacred face,
evermore and evermore!
3 This is he whom heav'n-taught singers
sang of old with one accord,
whom the Scriptures of the prophets
promised in their faithful word;
now he shines, the long expected;
let creation praise its Lord,
evermore and evermore!
4 O ye heights of heav'n, adore him;
angel hosts, his praises sing:
all dominions, bow before him
and extol our God and King;
let no tongue on earth be silent,
ev'ry voice in concert ring,
evermore and evermore!
 5 Christ, to thee, with God the Father,
and, O Holy Ghost, to thee,
hymn and chant and high thanksgiving
and unwearied praises be,
honor, glory, and dominion
and eternal victory,
evermore and evermore!
The Lord's Prayer:  (to be prayed in whichever language you chose)
Our Father, who art in heaven, hallowed be thy name; thy kingdom come; thy will be done; on earth as it is in heaven. Give us this day our daily bread. And forgive us our trespasses, as we forgive those who trespass against us. And lead us not into temptation; but deliver us from evil. For thine is the kingdom, the power and the glory, for ever and ever. Amen.
All:   Faithful God, in baptism you have adopted us as your children, made us members of the body of Christ and chosen us as inheritors of your kingdom: we thank you that in this worship you renew your promises within us, empower us by your Spirit to witness and to serve, and send us out as disciples of your Son, Jesus Christ our Lord.  Amen.
(Tune Gonfalon Royal)
The sinless one to Jordan came
To share our fallen nature's blame;
God's righteousness he thus fulfilled
And chose the path his Father willed.
Uprising from the waters there,
The voice from heaven did witness bear
That he, the Son of God, had come
To lead his scattered people home.
Above him see the heavenly Dove,
The sign of God the Father's love,
Now by the Holy Spirit shed
Upon the Son's anointed head.
How blest that mission then begun
To heal and save a race undone;
Straight to the wilderness he goes
To wrestle with his people's foes.
Dear Lord, let those baptized from sin
Go forth with you, a world to win,
And send the Holy Spirit's power
To shield them in temptation's hour.
On you shall all your people feed
And know you are the Bread indeed,
Who gives eternal life to those
That with you died, and with you rose.
Priest:     Christ the Son of God perfect in you the image of his glory and gladden your hearts with the
good news of his kingdom: and the blessing…..
Deacon :   The Lord will be your everlasting light and your God will be your glory. Go in peace to love and
serve the Lord.
All:             In the name of Christ. Amen.            
Notices – more information is on the website including Zoom login details.
Epiphany Bible Studies: Fridays at 19.00.  Jan 15th, Jan 22nd, Jan 29th, Feb 5th. Texts for study will be on the website shortly, or email Fr. Leonard and he will send them to you.
Book of Common Prayer Evensongs: Wednesdays at 19.00 from 13th Jan-24th March. Order of service will be on the website or email Fr. Leonard in good time and he will send it. Same format each week. A chance to use the 1662 Book of Common Prayer!
Lent Study Group: Limited to 12 people. We will study Rowan Williams Book Meeting God in Paul. Copies will be on sale from Fr. Leonard when they arrive.  Fridays at 19.00 – Feb 19th, Feb 26th, Mar 3rd, Mar 12th, Mar 19th.
Fr. Leonard's usual Day Off – Monday  (in emergencies contact Deacon Christine)
Home tel :  210 72 14 906;  email anglican@otenet.gr
Deacon Chris: 22950 53164: Day off – Friday
Swedish Church: contact Fr. Bjorn on  694 607 2428