WE REMEMBER
In a "postcard" from the Yorkshire Dales, Jean Mertzanakis links the exhibition at St. Paul's in honour of those who fought in the Great War to the commemoration included on Armed Forces Day in the market town of Skipton.
The WW1 Exhibition at St. Paul's, though small, is often surrounded by visitors viewing articles and photos about the first Great War in 20th century Europe. Memorials in the church also include references to some of those who died serving their country in both wars.
Here in the UK, a recent outing to the lovely Dales market town of Skipton, in Yorkshire, turned into a very special visit as we joined locals and tourists in celebrating Armed Forces Day.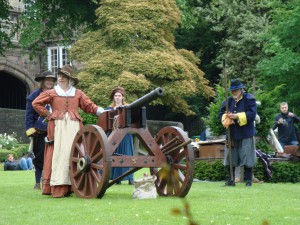 The church outside the castle walls was the backdrop for a re-enactment of an English Civil War battle which ended with the firing of two cannons – despite covering our ears and opening our mouths wide, as instructed, the cannon shots made us jump and the earth tremble. Acrid smoke filled the air and visibility was low, giving an unforgettable experience of what it must have been like to fight in the 1600s.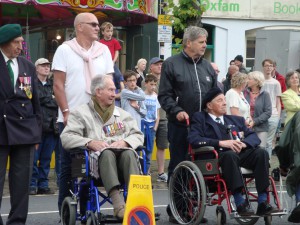 In the ensuing parade, veterans marched or were pushed in wheel-chairs and silence fell as an elderly, upright gentleman from Skipton was presented with a gift from the townspeople in commemoration of an act of special bravery.
The contrast between the veterans and the children excitedly jumping in the bouncy castle and riding on Thomas the Tank Engine was sobering indeed and yes …. we should remember.
The exhibition in St. Paul's will run until November 2018.
Jean Mertzanakis