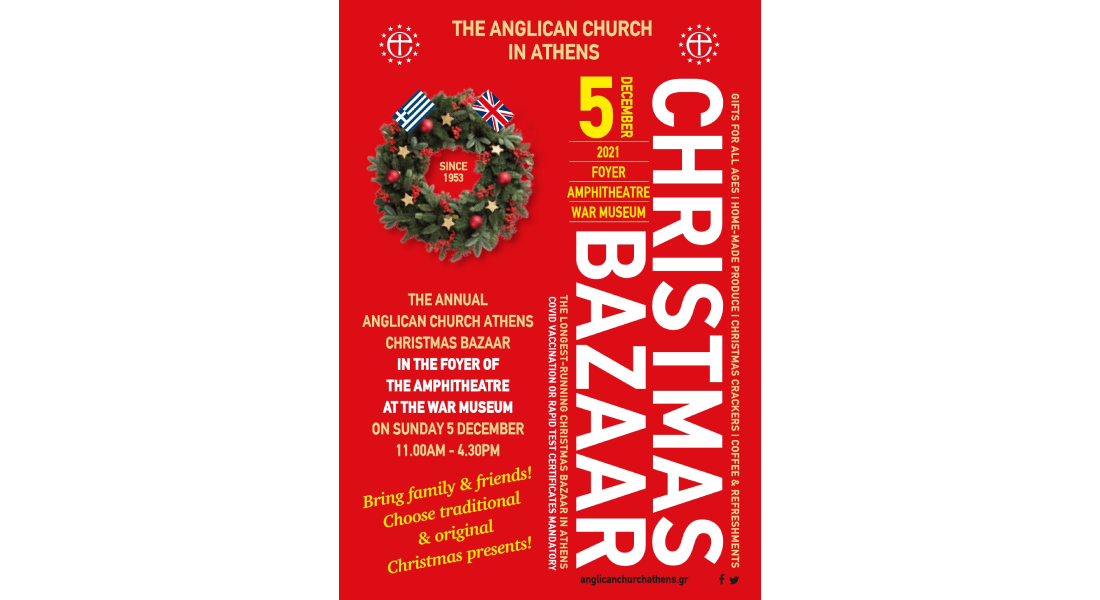 The Great St Paul's Christmas Bazaar is back!
After a Hiatus of two years St Paul's famous Christmas Bazaar is back at a new venue.  On 5th December 2021 in the Amphitheatre foyer of the Athens War Museum from 11.00 hrs – 16.30 hrs with many of our usual stalls available to purchase your Christmas Gifts:  Christmas cakes,  Mince pies,  Christmas crackers, Handmade gifts, Books, Jewellery, Clothing, Preserves, DVD`s and lots lots more!
Maybe relax for awhile and enjoy a lovely Irish coffee, a glass of wine, a cup of tea or coffee and something to eat from our cake/sandwich stall.
Don`t forget to try your luck at our Christmas raffle.
Bring the kiddies along to see Father Christmas.
Spread the word, bring family and friends!
Hoping to see you there for a wonderful day out after so long.
PLEASE NOTE COVID UPDATE:   Proof of Vaccination (Certificate) must be shown to gain entry to the museum.
Call out for help!
Preparations for the Christmas Bazaar have started and we appeal to anyone who has in the past, or who would like to contribute for the first time, to donate food for the Food Stall. If you can help in any way, we would love to hear from you.
We cannot serve hot food at the venue, so we need sandwiches, pastry goods, cakes, tarts, puddings etc. They must be individually wrapped and clearly marked with ingredients. We don't want to sell cheese pies, if they are apple!
Email lynnedoolan@hotmail.co.uk or anglican@otenet.gr
Thank you so much.