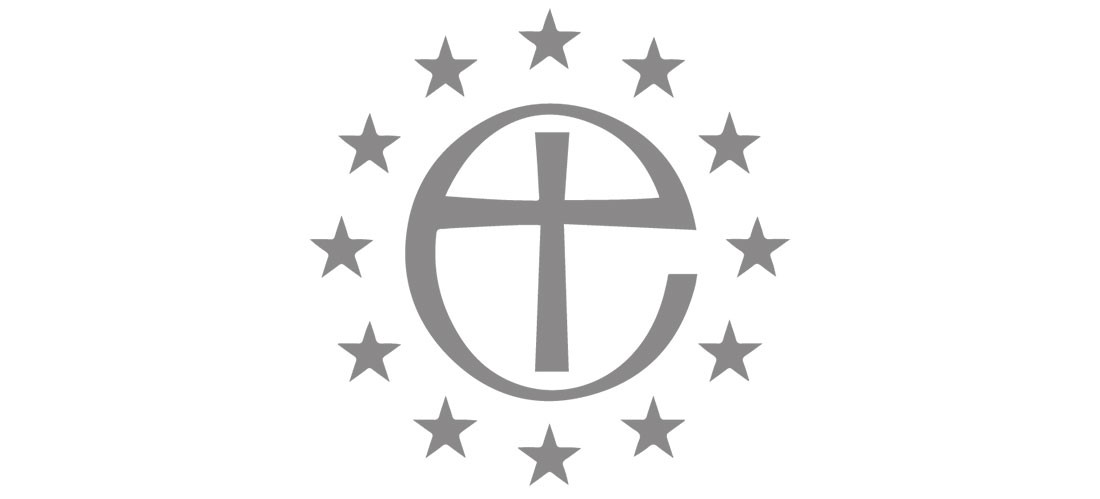 Sermon preached on 2nd Sunday before Lent at the Principal Eucharist, Holy Trinity Brussels, Gen 1; Romans 8, 18-25; Matthew 6, 25-34.
The Revd Canon Leonard Doolan (Athens) 
I wonder if any of you remember the great Franco Zefferelli film on the life of St. Francis.
There is a simply wonderful scene when Francis goes to Rome, to the Lateran Palace, to petition the Pope (played of course by the great actor Sir Alec Guinness) for permission to found a simple poor community of men and women who could gather round Francis in prayer and acts of charity for the poorest in his local society.
Francis's father was a wealthy cloth merchant who had sent his son off to the Holy Land as a noble Crusader. He returned from there badly wounded and very sick. It is while he is in recovery that he has his conversion to a new way of being Christian – a different way to his wealthy upbringing. It also means that Francis has some good connections, so he uses a fellow former Crusader, now a lawyer at the Papal court, to write the petition for Francis in the very best of jurisprudential Latin.
His turn comes round. He is ushered by his lawyer friend into the audience chamber, passing armed guards as he makes his way. He kneels before the Pope who is seated on a throne some dozen or so steps up. The great Papal tri-corona, triple crown, hovers majestically over Sir Alec Guinness's head.
To left and to right of Francis are rank upon rank of Cardinals, Archbishops, bishops, archdeacons, abbots, and ecclesiastical lawyers . They all know inside out the protocols of the Papal chamber. They look with disdain and incredulity on this petitioner, dressed in a simple habit.
Francis unrolls the scroll, revealing the text he is to read out. He starts falteringly reading the Latin words. His heart is not in it. He rolls up the scroll, and in place of the text he starts to say,
'Look at the birds of the air; they neither sow nor….'
Bedlam ensues. Hierarchical papers are strewn in every direction; red hats and golden mitres are knocked off in the scuffles that follow; screams of abuse are levelled at Francis; there is panic everywhere. Francis is removed physically from the chamber.
As the melee recedes all eyes turn away from the doors through which Francis has been dragged towards the papal throne. The Pope is standing, his right arm raised high, and his finger pointing upwards. His face looks as if the Pope is in some sort of shocked trance. The chamber follows the line of the Pope's finger towards the ceiling of the chamber, and there above him painted as a great mural on roof of the apse, is Christ, depicted as he so frequently is in ancient art, and still so in Orthodoxy, as the Pantokrator – the ruler of all. By those few words of Francis the Popes heart, mind, being, had been re-directed towards the very core of the Christian faith – Christ.
Francis is found, brought back into the chamber, and the rest, as they say is history. Francis and his Order have been an essential element in reminding the church that she is a sign of the Kingdom.
In today's gospel, this Christ, whose words are repeated by Francis, tells us of the birds of the air, and the lilies of the field. We are directed to what matters – to the very core of our faith, and our confidence in Christ. God sustains. God is good. God sees what he has created and 'sees that it is good'. In the goodness of this Creation Jesus advises that we should not worry. No worries about what we should eat, or drink; no worries about our clothing. This is great news!
Well, it is great news if you know where your next meal is coming from, or when you might have your next glass of wine or Westmalle Tripel; great if you wake up on a February morning and wonder which cardigan and jacket to wear to go to the work that keeps you employed comfortably five days a week. I sound like I am describing myself – and maybe some, or many, of you.
How does the message sound if you have none of these basics to sustain your life? This is the real challenge to all of us, because Jesus, as he so often does, is pointing all of us not to some carefree Utopia, not to some esoteric heavenly dwelling place, but to the Kingdom of God, the Kingdom we pray for every time we pray Our Lord's prayer. 'Your kingdom come on earth as it is in heaven'.
If we are to be directed by Jesus to this kingdom through his two picture images of the sparrows and the lilies, then we are to picture a kingdom of freedom and beauty; freedom and beauty.
This means there is no place in the kingdom for the oppression, insecurity and exploitation of God's people; no room for the ugliness of hunger, deprivation, and fear. These are not characteristics of the kingdom – they are its opposite, and we are bound by faith and compassion to do all we can individually and corporately to eradicate those things that obscure the beauty and freedom that God will for his creation.
I am Chaplain in Athens, with an oversight for all the Anglican congregations in Greece. Greece has been for some years now at the forefront of the tragic issues that accompany migration and asylum – in the main part people trying to flee  from forms of oppression and ugliness in their own home countries, to find that oppression and ugliness manifests itself everywhere – their choices are not like many of ours. It is often a choice between the devil and the deep blue sea.
Greece is a premier destination for summer holidays – many will fly to Athens and from this great city they take ferries from the port of Piraeus to some of the most magical islands you could imagine. Among such islands are Samos and Lesbos, for example. On both these islands alongside local inhabitants and tourists there are huge populations of migrants and asylum seekers, being held in camps that are bulging at the seams. The authorities cannot cope with this and at camps like Moria there are frequent outbursts of violence as migrants respond to the poor treatment they receive, and the endless waiting for their asylum applications to be processed.
North of Athens, there is a huge camp at Ritsona, miles from shops and public transport. It is a converted, run down former  military camp, and instead of 800 residents it is up in the thousands. Syrians, Afghans, Iranians, Iraqis, Sudanese, Somalis, all held in camps or seeking to survive with no legal papers, living in the shadows of Athens life.
Please remember also, that this crisis emerged in Greece just as it was going through a terrible financial crisis – with austerity measures that were draconian by comparison to other European countries. In tandem Greece was trying to cope with harsh measures making their own citizens desperate, as well as the huge influx of refugees from Syria, and migrants from other failing or oppressive regimes.
There are so many tragic stories of human suffering and privation that it would be impossible to share them with you.
Instead I would like to share with you just a few aspects of the ways in which the Anglican Church of St. Paul in Athens has been participating in the Christian response to many of these challenges; to share with you some of the partnerships that have emerged; and to say a sincere 'thank you' to Holy Trinity Brussels.
Through these partnerships I believe that there are glimpses of the freedom of the sparrows, and the glory of the lilies as engage with the kingdom.
With our very small and limited resources, and as a miniscule Anglican presence in a vast ocean of Greek Orthodoxy, we have established partners through whom we channel our limited resources. Our principal partner in terms of size and extent is Apostoli. Translated, this means 'mission'.  Apostoli is the NGO, NFP organization established by the Archdiocese of Athens to respond socially to the challenges imposed on the Greek population, and the pressures of refugees and migrants.
Apostoli provides a programme that feeds over 1,000 people in central Athens every day. They have established a home for the elderly, in particular those with dementia, as the state makes no provision for those suffering from this; they run programmes for Greek lessons; a service for refugees to be united with family members already in other European countries; and children's services. Apostoli have just requested from us about €2,000 to help provide childrens' clothes. As it happens HT Brussels for several years now has sent €2,000 to St. Paul's to use for social purposes. I have sent some links about Apostoli's work for your website.
Another organization we have partnered is called Hestia Hellas. Hestia was in Greek mythology the goddess of the fire-place – the hearth, representing the warmth and security of the home.
Hestia Hellas has been offering psycho-social support to those suffering from conditions such as PTSD. There is no state provision for this. They offer music, art, and drama as therapies, and crucially a child-friendly space so that parents can access the other services without having to worry about their children being cared for.
The head of the Child Friendly Space is my wife, Lynne, who volunteers there two full days per week. It is challenging work – as the children are Arabic, Turkish or Farsi speakers. Child play and the freedom of continuity and security allow the children a little stability in the chaos and uncertainty of their lives. Lynne tells of children who run to hide if a door accidentally bangs, or who will scream with fear as they cover their ears. There are 30 or so children in the sessions, most days of the week. It is staffed and run by volunteers, and Hestia has no budget available for this crucial work because of the costs of counselling and operational costs.
Hestia is not primarily a Christian organization, though its two Directors are Christian. However I am glad to share with you that all volunteers at Hestia have to complete the Level 1 Safeguarding procedure operated by the Diocese of Europe, and all senior leaders will be completing Level 2 Safeguarding with a Diocesan trainer in the late Spring. This is a huge step forward in Greece, where Safeguarding is not as high on the agenda as it is elsewhere. There will be more information about Hestia Hellas on your website.
Apostoli and Hestia are part of a mix of partnerships that have been created with the local Anglican Church, the Diocese of Europe – you may remember that Hestia was recently a recipient of one of Bishop Robert's Appeals – and crucially up until last year with USPG.
USPG made it possible for us to fund our Parish Deacon, Christine Saccali, to be our outreach officer, working with our partner organisations and building influence. When that funding came to an end the burden of payment has fallen to our Church Council. It costs €5,000 a year to employ Deacon Christine for 8 hours per week.  Her work is vital to the life of the Anglican Church in Athens. There's a sales pitch for you!
Through partnerships over 3/4 years something in the region of €350,000 has been directed towards Greek based organisations. For this reason, among others, the Anglican Church is held in high esteem by Apostoli, Hestia Hellas, and the Archdiocese of Athens. Recently I was invited to join the Board of Hestia Hellas.
So, to Holy Trinity Brussels, our heartfelt thanks. Thanks to your Mission Committee. Thanks for your vision, thanks for your consistency, and thanks for remaining faithful to the demands of the Kingdom of God. We can't do everything with your contribution, of course, and we would go mad if we tried. In Athens we must remain focused and strategic in what we attempt, but I hope through your generosity there can be some glimpses of freedom and beauty for at least some of God's people who suffer human indignities.
In this glorious gospel passage Jesus presents to us the demands of the kingdom. When we truly respond to those demands and offer food and drink and clothing, then indeed we will not have to worry about such things, because they will be granted to us. God indeed knows the need, but we have to learn how to be the co-workers with Him in his creation, and he calls his church to be a sacrament of the Kingdom – a sacrament of freedom and beauty.
God looks on his daily creation and 'sees that it is good'. It is when we attend to the kingdom that God will be able to see what is done in his name by us, and HE will see that it is good.