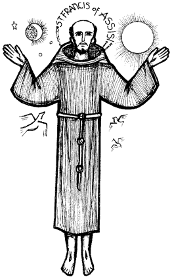 Pet Service and Blessing
Following the morning liturgy on Sunday 3rd October, the day before the Feast of St. Francis of Assisi, a service of thanks for pets and all our fellow creatures was held at St. Paul's, with Father Leonard (Senior Anglican Priest in Greece) and Father Bjorn (Pastor to the Swedish community, accompanied by his guitar) presiding. Hymns were 'Morning has Broken', 'All Things Bright and Beautiful' and 'All Creatures of our God and King'. A Swedish song, 'Only one who is walking Close the Ground can see the Wonders of God', was sung by Father Bjorn and a member of his congregation. Prayers, Homily and Readings focused on our relationship with nature and all living creatures and the affection and psychological support given by pets, especially during times of stress and even more during Covid lockdowns. Father Leonard spoke of our hope that the November United Nations Climate Change Conference (COP26) in Glasgow would lead to more international action to fight this rapidly-increasing phenomenon affecting not only us but all life on earth – a catastrophic legacy for our children and future generations.
First to arrive were Hector, who brought along Lynn, and Piglet, accompanied by Sandra. Others soon followed, amongst them a small French bulldog recovering from surgery and a little charmer equipped with a set of wheels, who scurried around meeting and greeting. The joy of all at this unexpected get-together was a delight to see.
A note: We remember, of course, Greek singer Cat Steven's rendering of  'Morning has Broken', which became an international hit. It began life as a Christian hymn published in 1931, written by Eleanor Farjeon, who was inspired by the village of Alfriston in Sussex and set to a traditional Gaelic tune, 'Bunessan'. Since then it has been a firm favourite for children's services and takes many of us back to our school days.
Jean Mertzanakis