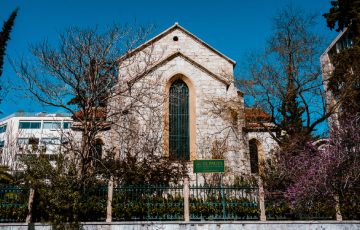 Minutes of St Paul's Parish Council Committee Meeting held 1st October 2022
The minutes of these meetings can only be published after they have been signed off by Fr Leonard at the following meeting.
The meeting was held in church and opened with a prayer at 10.30 a.m. The Minutes of the July meeting were approved and signed by Father Leonard.
Linda Paparsenos was thanked for her work as Local Environment Officer (LEO) and this position was now open.
Mr. Athanatos at Athens City Council had been thanked for a donation of bedding plants for the church garden.
Hymn books had been cleaned and covered with plastic until a curtain was provided.
Following financial losses during the Covid years, further financial assistance (€1,873) had been received from the Diocese. Diocesan financial support for the position of church
supervisor would end in 2023 – Council agreed that we should take over this funding due to the importance of the church being open to the public five mornings per week.
Other items discussed were:
Two people would be needed to supervise Sunday School following Lynne Doolan's departure in summer, 2023. Health and Safety regulations were being applied and
regular safety checks of the church premises and garden were made.
Archdeacon Leslie would visit Athens in November for meetings with Council and Church wardens to discuss the procedure for finding a replacement for Father Leonard in
2023.
Thanks had been received from the British Ambassador for the organisation of the Commemoration Service for HM Queen Elizabeth II. St. Paul's Book of Condolences had been
sent to the office of the Holy Synod of the Orthodox Church and then to the Ambassador's residence and scanned for forwarding to the UK. The book itself would be returned to St. Paul's.
A Thanksgiving Service for the life of Sasha Brewis and her service to the church had been well attended.
The visit of the Bishop of Truro, who had produced a report on Christian persecution worldwide, would now take place in 2023.
Followinga request for a same-sex marriage ceremony, the publication of the Church's report on this controversial topic was awaited.
A second Table Top discussion would be arranged to discuss the support needed for various aspects of church life. Topics to be covered were
Wardens, Treasurer, Safeguarding Officer, Children's work and the production and sale of items as gifts/souvenirs connected with St. Paul's.
Arrangement for the Harvest Festival were in place; it was agreed that "Paediatric Trauma Care", supporting children seriously injured in road accidents or at home,
should be allowed to hire two tables at the Christmas Bazaar for a fee of €100 Euros.
Oliver reported that €834 had been raised from book sales. Books were also sold at "Newcomers" meetings at the Vathis Taverna in Erythrea and Deacon Chris was
waiting to hear if this venue could be used by St. Paul's Community Connect North.
The official book launch of "Open Doors" was being arranged and copies taken to the UK by Lynne Doolan for sale by ex-Ambassador John Kittmer and Father James.
There were two concert bookings and regular Radio Pepper's "Church Sessions" would continue. €1,000 would be charged for an all-night musical event sponsored
by Athens City Council.
The dates and times of the Carol Sing-along and Christmas services were arranged and the meeting closed at 12.50 p.m.
Jean Mertzanakis (Hon. Secretary)