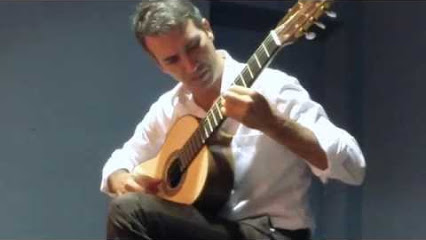 "La Cathédrale" guitar concert
On Saturday 9th April, internationally acclaimed guitar soloist Yorgos Bechlivanoglou will perform "La Cathédrale", a programme of works for guitar, at St. Paul's Anglican Church, Philellinon 27 & Amalias Avenue (metro: Syntagma), at 8:30pm. Organised by specs 'n' arts, tickets are €12 (students €8) and can also be purchased via www.ticketservices.gr, or booked by calling 210.723.45.67.
Born in 1974, Yorgos Bechlivanoglou started studying classical guitar at the age of 12 and is now a leading guitarist and teacher with an impressive track record: as a soloist, as a participant in orchestras and festivals, as a chamber musician in various ensembles and as instigator of "All that guitar", a festival held in Loutraki and bearing the same name as his first solo album, recorded in 2003.
In this concert called "La Cathédrale", a programme composed of works by J.S.Bach, Tarrega, Barrios, Rodrigo, Brouwer, Kellner and Koshkin, Yorgos Bechlivanoglou is sure to offer his audience a scintillating performance and yet another memorable "Musical Moment" at St. Paul's.