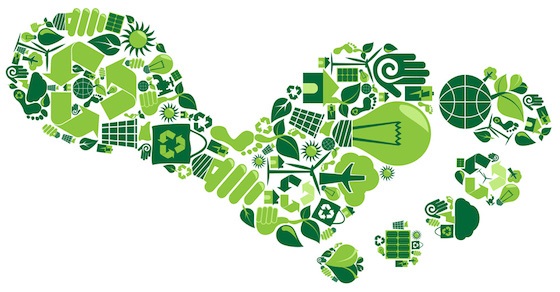 GOING GREEN IN ATHENS
Jean Mertzanakis tells of the Athens Chaplaincy's efforts to "think green", while also helping other people.
Reducing the carbon footprint of each chaplaincy is the aim of the Diocese of Europe environmental awareness programme. Most chaplaincies, including ourselves, use energy efficient light bulbs and resort to air-conditioning or heating only when necessary.  The compost heap in St. Paul's garden got off to a good start, although travelling to church by bus or metro with a bag of odorous vegetable matter was not for the fainthearted. Sadly, a visit from a furry friend led us to consider the health and safety aspect, especially for the small children who run around the garden at every opportunity, and then care of the compost heap became a problem during the summer months when most people are away – however, we did try! Watering the garden isn't a problem in the winter months, when Athens receives its fair share of rain, but care with water consumption is obviously needed in summer, with temperatures of up to 40°C.  A sprinkler system would be welcomed, but in the current economic climate this is at the bottom of the Chaplaincy wish list.
Individual chaplaincy recycling programmes also gladden the hearts of Diocesan Environmental Officers.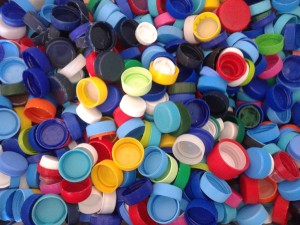 We recycle plastic bottle tops, postage stamps and Christmas cards. 21.000 bottle tops will buy a wheelchair for a disabled person; personal collections are added to donations from friends and family and appeals made to local cafeterias, tavernas and supermarkets. Collecting them from the street and even stopping people in the act of throwing a bottle away are also recommended for the more intrepid among us!  An added benefit is that, by collecting only the tops, the remaining bottles are much more easily and safely processed in recycling plants. With our help, one wheelchair has already been purchased.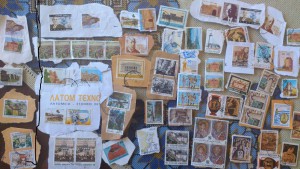 Postage stamps are sent to the Brittle Bone Society in Swansea and then sold to raise money, with a yearly target of £1,000. Foreign stamps are more valuable than British ones, but all types are welcome and, because of our contributions, in 2013 the yearly target was exceeded by a large margin. Christmas cards are recycled for our own greeting cards' production line (otherwise known as Mrs. Anne Dedes), whose beautiful handmade greetings cards have already been featured in this blog.
New ideas for further "greening" of the Chaplaincy are always welcome – each one making our carbon footprint just a little bit smaller!
Jean Mertzanakis
Editor's note: If you are interested in ways that you yourself can adopt to help reduce the environmental impact of your daily habits, why not check out the British recycling database website, WasteConnect?