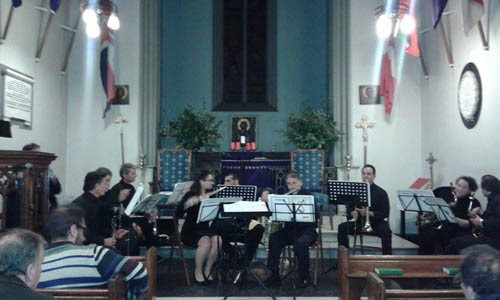 Christmas melodies by the Sol-Fa Ensemble
THE SOL-FA Ensemble will be giving a concert at St. Paul's Church, Philellinon 27 and Amalias Avenue, on Saturday 19th December, at 8pm, with a repertoire of Christmas melodies. Entrance fee: € 10 (tickets also available online, via www.viva.gr)
Accompanied by Afroditi Fikari (soprano), Dimitra Despotopoulou (alto), Spiros Flokos (tenor) and Yiannis Papageorgiou (bass), the eight musicians composing the Sol-Fa Ensemble will introduce us to the Christmas spirit with a repertoire composed of:
– A Christmas Suite (Felix Mendelssohn–Bartholdy, Kathrine Davis, Henry Onorati, Harry Simeone, Charles Wesley)
– Bach Gammon (J.S. Bach, P.I. Tchaikovsky, J. Brahms, Paul de Seneville)
– Silent Night (Chorus / Frantz Xavier Gruber)
– Jazz Suite Waltz No2, Op. 35 (Dimitri Shostakovich)
– New World Symphony (2nd Movement Theme – Largo / Anton Dvorak)
– Gia tin Elefteria (Chorus / Dimitris Konstantakis)
– A Christmas Medley (Traditional Carols from Germany, France & the USA)
– Christmas (Guinet Sylvain)
– Funiculi – Funicula (Chorus / Luigi Denza)
– Anitra's Dance (Edvard Grieg)
– A Classic Encounter (J.S. Bach, P.I. Tchaikovsky, N. Paganini, traditional from Spain)
– The feast of Christmas (Chorus / F. Handel, F. Mendelssohn, traditional European carols)
– Christmas Favorites (traditional carols)
– Christmas Kalanda (Chorus / traditional kalanda of Greece)
– The Radetzky March (Johann Strauss).