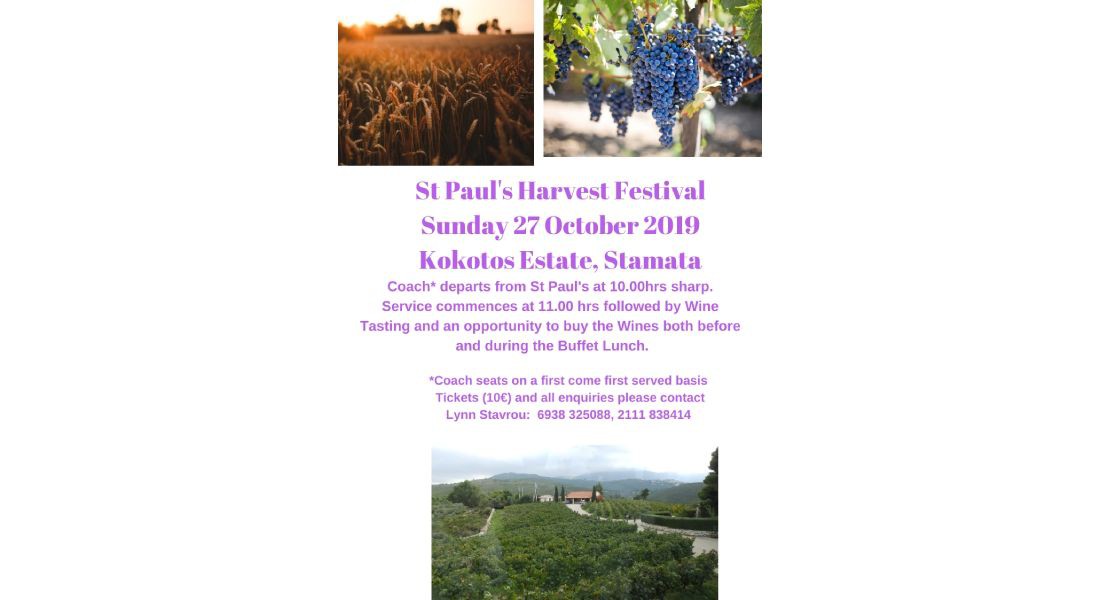 Everyone is welcome to come and celebrate our annual Harvest Festival on Sunday 27th October at the Kokotos Winery in Stamata.
There is a free coach leaving St Paul's at 10.00hrs Sharp, (booking required). The service commences at 11.00 hrs, followed by wine tasting and an opportunity to purchase wines both before and during  the buffet lunch, cost 10€.
This is always a very enjoyable day out for all the family and a chance to get out of the town and into the countryside for the day. We have been very lucky with the weather over the past few years and pray that this current spell of warm sunshine will last for another week.
Kokotos Winery is a great friend of St Paul's and we are very thankful that they allow us to celebrate our harvest festival so fittingly amongst the vines and grape harvest of their Winery.  Of course the wine-tasting is an added attraction to the day out but set in beautiful grounds it is an opportunity for the Chaplaincy to come together and enjoy themselves.
For more information and to reserve a place on the coach (first come first served) please contact:
Mrs Lynn Stavrou on:  6938 325088, or 2111 838414
For more information about the Kokotos Winery please click here